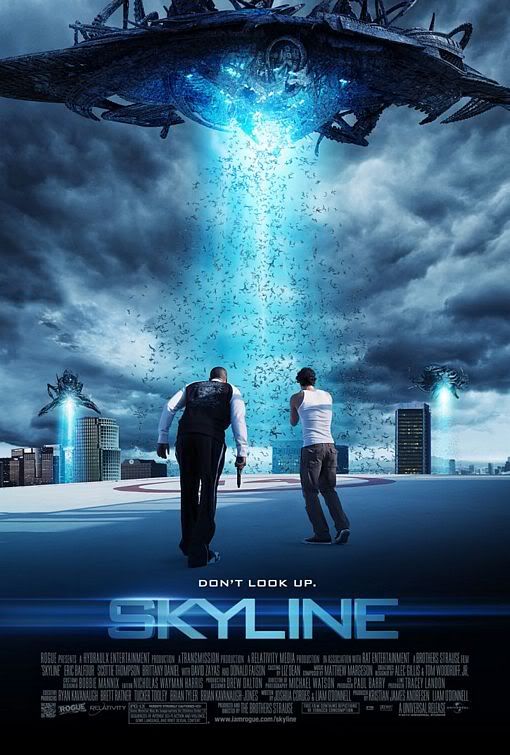 Having a tough time with this one. I liked it, but…….the story was rather flat, as was the emotion. It was entertaining, but, perhaps not so much that it is worth seeing in a movie theater. Might have been better off as SyFy channel Saturday night movie (albeit better than their standard fare). Many reviews and comments say the same thing.
The special effects were great, but, as Rotten Tomatoes puts it
A middling sci-fi entry, Skyline offers proof that solid special effects alone cannot overcome a flat storyline filled with uninspired dialogue.
You never really get emotionally involved, or a sense of what the aliens want. Kinda strange coming from a person who really loves Cloverfield, but, then, Cloverfield wasn't about the monster and its spawn, but, solely about the people involved and how they respond. Skyline never made that move. It's more like Independence Day, without the explanation as to what the aliens want. I mean, you kinda get a sense, finally, what they want to take (trying not to give spoilers), but not a why. In fact, many people are making comparisons to those two movies, and not in a good way.
While the dialogue isn't bad, it is just missing that extra little bit that gives a sense of interpersonal relations. And yelling at someone to "Run!!!!" while they are on the top of a 16 or so story building? Um. No. Facepalm.
Also, it seems to end abruptly, without a feeling that there would be a part two, or even what would end up happening. It's almost like they cut the last 10-15 minutes out by accident, and sent it to the theaters.
Did I like it? I guess so. I didn't walk out feeling I wasted my money, but, I'll give it a C. Too bad, I really like Eric Balfour in Haven, my favorite TV show (which won't be back till sometime late next summer, as SyFy likes to do, dagnabit!). Considering the budget was $10 million, it's not utterly bad. Perhaps those involved could have taken out some of the effects and given more to the script writers. Funniest part, it's still kicking the crap out of the idiotic "Fair Game," which has made a whopping $1.9 million, to Skylines $11.9 million. Granted, Skyline is in more theaters, but, that should tell you something about left wing fantasy movies like Fair Game.
Only after seeing the movie, then looking at the tagline, "Don't Look Up," will you understand why it is called skyline.
Wait for the DVD.

If you liked my post, feel free to subscribe to my rss feeds.