How perfect is this?
It wasn't quite a Kennedy Center Honors Award show, but the entertainment in Yokohama, Japan Saturday evening made President Obama smile as Japanese performers of traditional Kabuki theater put on a show for world leaders in town for the APEC summit.

Kabuki is highly stylized Japanese singing and dancing which has been a tradition since the 17th century
So, the man who has perfected stylized political theater finally was able to attend the real thing. Video at the link. Oh, and thanks for apparently being the only person who's munching on a snack or gum.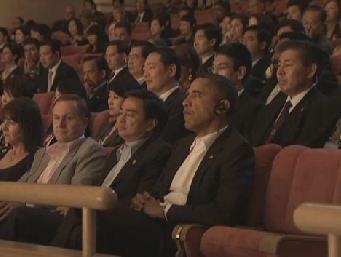 If you liked my post, feel free to subscribe to my rss feeds.