To follow up on the earlier article today, now we have the NY Times editorial board. As it is portrayed on the front page
Bloodshed and Invective In Arizona: Arizona should take the lead in quieting the voices of intolerance and imposing sensible gun control laws.
Obviously, when they talk about taking the lead, they mean worrying about all the harsh political rhetoric, right?
It is facile and mistaken to attribute this particular madman's act directly to Republicans or Tea Party members. But it is legitimate to hold Republicans and particularly their most virulent supporters in the media responsible for the gale of anger that has produced the vast majority of these threats, setting the nation on edge. Many on the right have exploited the arguments of division, reaping political power by demonizing immigrants, or welfare recipients, or bureaucrats. They seem to have persuaded many Americans that the government is not just misguided, but the enemy of the people.
See? The entire thing is the fault of people on the Right. Obviously, the Left is full of sweet little things that never go overboard and never threaten anyone. Obviously, we never saw any "hate" speech and vitriol aimed at Bush and the Right. Climate realists have never been threatened with execution for not believing in the cult of Gore. The Left never throws around death threats, right?
Not to be outdone by the Times (but he is), E.J. Dionne is calling for the same thing, and, yup, blames the Right, and goes with
The point is not to "blame" American conservatism for the actions of a possibly deranged man, especially since the views of Jared Lee Loughner seem so thoroughly confused. But we must now insist with more force than ever that threats of violence no less than violence itself are antithetical to democracy. Violent talk and playacting cannot be part of our political routine. It is not cute or amusing to put crosshairs over a congressional district.
The point is not to blame, but, he just did. He blamed Palin, the TEA Party, and all conservatives.
Liberals were rightly pressed in the 1960s to condemn violence on the left. Now, conservative leaders must take on their fringe when it uses language that intimates threats of bloodshed. That means more than just highly general statements praising civility.
I guess that is not "blaming" American conservatives.
In honor of Giffords, the effort to drain the rhetorical swamps should be as nonpartisan as she was in her interview. It is wrong, at any point on the spectrum, she said, to "incite people and inflame emotions."
In other words, welcome to 1984, and control of speech that politicians do not like. Just be careful that that doesn't come around to bite you in the butt, E.J. Expect to see plenty of emails from me whenever the Left ups their vitriol.
And, do I really have to mention that the shooter was neither a lefty nor a righty, but, in his own little political world, having nothing to do with our politics?
Sorta more: after I was done writing this, and setting it to post at noon, I took a walk around the blogosphere, and came across Michelle Malkin's post about Left wing hate speech: The progressive "climate of hate": an illustrated primer, 2000-2101. (which I also linked earlier) And here's one I forgot about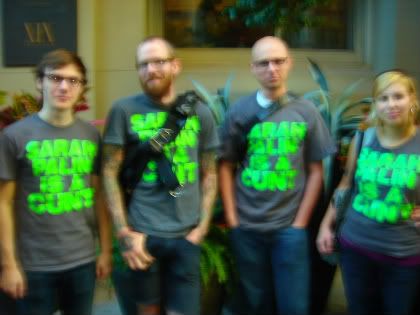 and this one
Obviously, those were motivated by right wing hate speech, eh?

If you liked my post, feel free to subscribe to my rss feeds.