Today's Da Funny comes from Treehugger, which seemed to have forgotten that 2010 was supposedly the hottest year ever! More Tips For Riding Your Bike All Winter
Brendan Kennedy of the Star has some terrific tips for winter biking that go beyond borrowing a balaclava from an anarchist friend.

Major riding tips include riding more slowly, anticipating stops, reducing tire pressure and turning safely:

In particularly snowy or icy conditions, lateral force will not take as strongly to the road, so make sure to slow down and turn with as much of your weight on top of the bike as possible (as opposed to simply leaning into turns). For left turns in busy intersections, Mohamed [bike educator at the Evergreen Brickworks] recommends getting off the bike and crossing by foot.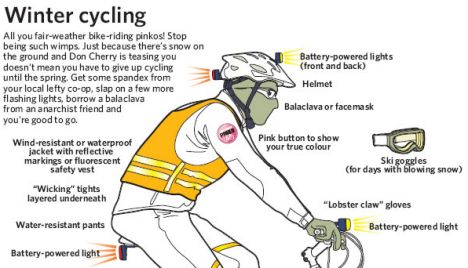 Dude, sure looks like it is, well, cold out there. Thanks for doing your part to keep it cold out there. It's probably your fault that Florida is enduring record GHG induced cold and 34 have died from said global warming in…..Egypt. Wait, Egypt? And, yes, now that you ask, the alarmists are trying to push bike sharing as a way of charging for CO2 offsets. (Links via Tom Nelson)
Just for clarity, the original story by Brendam Kennedy was not about Saving Gaia from global warming, something she has survived countless times, but, about getting exercise, especially around the holidays, where we tend to overeat. You know that Treehugger is not looking at it like that, but, rather, as a way of reducing greenhouse gases.
Oh, and here are a bunch of lunatics singing, asking "what can you do with a climate skeptic." Idiot lyrics here.

If you liked my post, feel free to subscribe to my rss feeds.