While I am still at the LA Times, via the National Review: Lisa Guerrero: Time to end this monkey business?
On Friday night, the Angels' Rally Monkey let down the home crowd in Anaheim. Although the team triumphed Sunday night in Boston, you can't credit the monkey unless he sneaked into Jared Weaver's suitcase.

On Saturday, John McCain's rally monkey, Sarah Palin, popped up in Carson. Fresh off of her victory over herself at the debate, her campaign let Palin out of the cage to rev up the fan base.

Only problem was that, according to an Associated Press analysis, the lady maverick made some "racially tinged" remarks about Barack Obama. Someone might want to inform Sarah that although comments like that may play well in Wasilla, here in Southern California we celebrate diversity along with divisional championships.

Now back to the other primate.
Um, OK, this is the sports page of the LA Times. I do read it a bunch, since I am a Dodgers fan. Long suffering Dodgers fan. She was writing about getting rid of the Angels' rally monkey, cause she doesn't like it. Fans sure seem to, though. Yet, through PDS, she felt she had to insert that idiocy into her story. Celebrate diversity, call Palin a monkey. I might agreed with her if she had left it alone after the second paragraph of the excerpt, because there is no doubt that Palin does the same thing. But, the last 2 showed Guerro's biases and stupidity.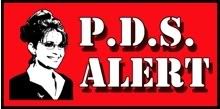 Photoshop: David Lunde
Trackposted to The Virtuous Republic, , Faultline USA, third world county, The World According to Carl, DragonLady's World, Shadowscope, The Pink Flamingo, Cao's Blog, Leaning Straight Up, Democrat=Socialist, and Right Voices, thanks to Linkfest Haven Deluxe.

If you liked my post, feel free to subscribe to my rss feeds.