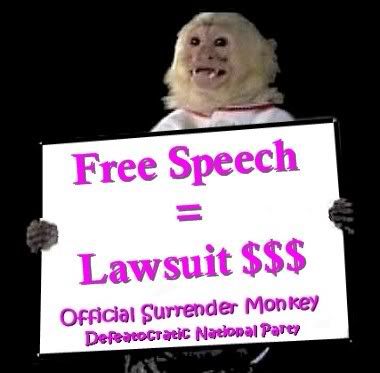 When Surrendie first heard this story late Thursday, he said "Mine! Mine! Mine!" And, since I usually avoid arguments with poo flingers, I said, "sure." Raleigh N&O
Kay Hagan has filed a lawsuit against Sen. Elizabeth Dole.

The Democratic Senate candidate announced this afternoon that she will sue her Republican opponent and the Elizabeth Dole Committee over a television ad that criticizes her for attending a fundraiser hosted by the founder of an atheist group.

"In filing this suit, we've made clear that these kind of despicable tactics will not be tolerated, and our campaign is moving forward with the most important task at hand: defeating Elizabeth Dole, and giving North Carolina's families a voice in the U.S. Senate that they've been sorely missing," said Hagan spokeswoman Colleen Flanagan.
Surrendie is thrilled by how cool that is. Hagan has surrendered to the Barry way of doing things. Smear your opponents, lie about your own positions, then, if someone fights back, let your visceral response to be to investigate the lights out of them, and, file a lawsuit.
Now, to be clear, I do not think much of the Dole ad (below the fold), which, whether it is factual, stretches the truth, is false, is a waste of time and money, in my opinion. The whole atheism thing shouldn't cause any contretemps for Hagan. People can be atheists, and shouldn't be denigrated for that. It is their choice in our land of freedom. On the flip side, this has exposed not only this tremulous, friable Democrat candidate for high office, but, is a continuation of the Democrat playbook, and should give a big heads up over what the Obama presidency years will look like. And they will also be listening to the atheists would will force their agenda on others, rather then just live and let live.
Anyhow, Dole and her campaign say the ad is truthful. You decide.

If you liked my post, feel free to subscribe to my rss feeds.