I'm a little late to this party, too busy today to drop a post till now, but, 'member those flags the DNC was caught throwing in the trash? Well, there were apparently tons more
Democrats are not caring for their Stars and Stripes. At least that's the message out of John McCain's campaign.

McCain supporters, claiming they rescued 12,000 miniature American flags from the site of Barack Obama's nomination acceptance speech last Thursday, redistributed the orphan flags to audience members ahead of a McCain rally in Colorado Springs on Saturday.
And, of course, Camp Neophyte threw their almost standard hissy fit (almost, because they forgot to throw in the racist charges
Stories circulating about flags from the Democratic National Convention are false. More than 125,000 American-made flags were distributed at the Convention – any flags removed from the Convention after the event were taken without authorization.  It's disappointing that someone would take American flags without authorization and then falsely describe their intended purpose. We have the utmost respect for the American flag and it's sad to see them being used for a cheap political stunt.
Notice something? The Barry Camp never mentioned they were actually going to pick the flags up, as they had been sitting in trash bags by dumpsters for a week. If I leave something near the trash can for a week, I don't complain that someone stole it.
McCain supporters said the flags were discovered by a vendor at Denver's Invesco Field after the conclusion of the Democratic National Convention. The vendor supposedly found trash bags full of flags in and near garbage bins, and turned them over to the McCain campaign.

Boy Scouts were sorting through 84 bags of flags in Colorado on Saturday, before a McCain supporter had veterans distribute them to the audience.
Captain Ed makes a few good points (I also hicjacked the photo from him), including
Leaving material in and around dumpsters, especially in Hefty bags, makes it look like trash.  That's hardly a way to store American flags, and it's certainly not a way to keep janitors and waste management people from taking them to landfills.
Hey, that's the Dem way, just like the picture from the original post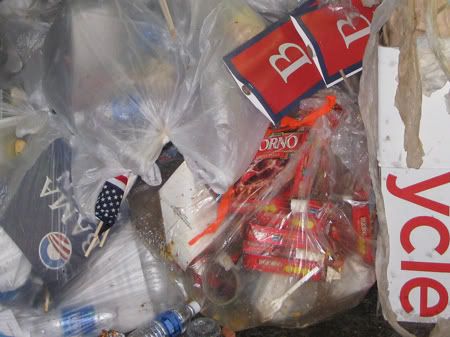 Rodger W. Gardner at Stop The ACLU is on the story, and catches the DUmmies going, well, DUmmy, over this issue, trying to spin it up, create a conspiracy. Maybe they should just admit they could care less about the flag.
Other loons, such as the Huffington Post (see a few links at Memeorandum) are already claiming victory and the story is debunked. Can they explain why the flags were in garbage bags? Racist Pandagon (see anything funny in the header?)Â is one of the funniest
 You know, worship of an inanimate object, like a flag…or a crown.
Better then worship at the alter of Abortion On Demand. Or at the feet of The One.
Others covering: Betsy's Page, Ace Of Spades, Flopping Aces, The Moderate Voice, Gateway Pundit, Blue Crab Boulevard, and Little Green Footballs.

If you liked my post, feel free to subscribe to my rss feeds.