Busting a cap needn't be a fashion mistake anymore, ladies
Gun manufacturers have been responding to a soaring interest from women with female-friendly 'purse pistols' in an array of trend-led colours and designs.

Despite the concerns of anti-gun campaigners, there has been an 83 per cent rise in the number of women buying firearms for personal defence, and handbag-sized models are fast becoming a sought-after accessory across the U.S.

Most weapon brands now offer a 'female-friendly' range that wouldn't look out of place in a toy shop, with many offering to customise pistols with pink paintwork and Swarovski crystals.
And then there is this hot babe, Miss Tierra Verde 2009, who fired her pink .38 to stop a home intruder who assaulted her and was beating the living snot out of her fiance, killing the intruder.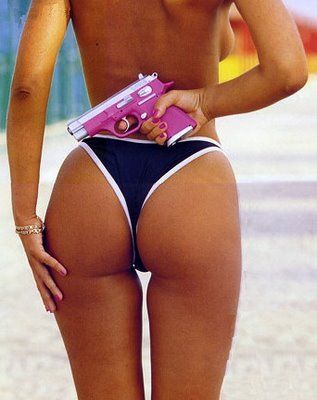 If you liked my post, feel free to subscribe to my rss feeds.