At this point, I am starting to believe Gore would have been better than Bush in fighting the War on Terrorism. Why? The dude is so stone cold wackadoodle that he probably would have just dropped some nukes on Afghanistan, Iraq, Lybia, Syria, and Iran, among others. Besides, the nukes would certainly have mitigated the supposed global warming through nuclear winter. Witness the latest incarnation of insanity
Al Gore was beating the climate change drum again on Tuesday, this time in Dubai, as the former U.S. vice president warned global warming will create "hundreds of millions of climate refugees".

"Each one metre of sea level rise is associated with 100 million climate refugees in the world," the Nobel laureate told a business forum in Dubai, which could see its famous man-made islands disappear under the waves if his predictions prove true.

"The North Pole ice cap is 40 percent gone already and could be completely and totally gone in the winter months in the next 5 to 10 years," he warned.

If the North Pole were to melt it could increase sea levels by 67 metres, Gore said, speaking in the heart of an oil-rich region not known for its regard for the environment.
67 meters is almost 220 feet. Perhaps Al could have saved a few tons of CO2 and not flown to Dubai?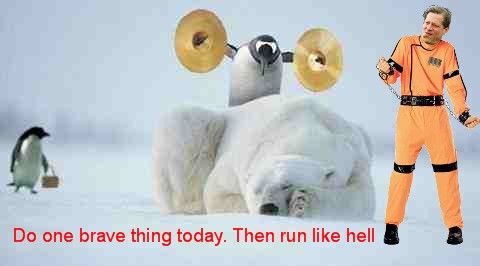 If you liked my post, feel free to subscribe to my rss feeds.