Usually, these stories tend to focus on Christmas haters doing Christmas hating things. Not today (well, not yet today, anyhow.) Let's start with how you can help
The Marines have been making children's Christmas dreams come true for nearly 60 years, but the corps may be seeing fewer smiles this year.

With demand up due to the poor economy and toy donations down, Toys for Tots, the Marine Corps' program that distributes Christmas toys to children in need, is facing one of its toughest years, according to Bill Grein, the Toys for Tots Foundation vice president.

Grein said the program last year distributed approximately 16.6 million toys and books, but this year he doesn't think they will be able to reach that number.

"We always run out of toys before we run out of children," he said, but this year "it's a major problem."
Scroll down to the bottom of this Toys For Tots page, find a local drop off point. Toys are not the reason for the season, but, goodwill to Men is. (Yeah, Star Wars stuff is usually Rusty's thing, but, still my favorite movie)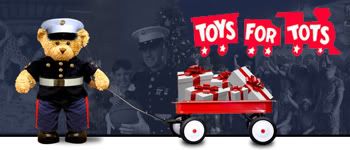 Next up, the other white meat
Are hard times threatening your Christmas dinner? Well then, Peru has the answer: guinea pig.

Officials in the coastal Peruvian province of Callao on Monday hailed the Andean rodent as a low-cost, low-fat alternative to a traditional turkey or roast pork Christmas dinner.

Guinea pigs can feed seven or eight for about $3.20, Callao official Mario Sanguinity told Associated Press Television.
Yummy!
And how about some nutters for Christmas
In George Orwell's 1984, the language spoken was "newspeak" – an alternative way of speaking that proscribed language that was acceptable to the totalitarian system and which categorized non acceptable speech as "crimespeak." Fox News has developed its own language which we could consider "Foxspeak" which includes "homicide bombing" and "Merry Christmas" as the only way to express seasons greetings (whoops is that "crimespeak?"). In Foxworld, those who don't say "Merry Christmas" (even if you're Jewish, there's no exemption) are scorned and reviled. Despite the "peace on earth" message of Christian Christmas, Fox is determined to stir up hatred of those who are different – those who want to follow Christ's message of inclusivity and tolerance. Thus, in twisting the real meaning of Christmas, the Fox Christmas is a truly bizarro world experience. But Fox is America's Christian network and they're mounting a crusade. As we have learned from past crusades, all kinds of hatred can be justified if "God is on your side." This week Fox&Friends reinforced the message that you'd better say "Merry Christmas" or you'll be on the Santa Fox naughty list. What would Jesus think? Fox&Friends has the answer.
"I'm, having, a seething nutjob Chriiiiiiis….mas! With every Fox Derangement breath I take."

If you liked my post, feel free to subscribe to my rss feeds.