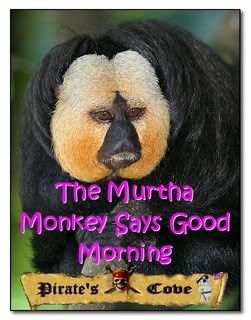 A special treat this Friday, Surrendie has given way so that the Murtha Monkey can greet us! Murtha Maintains He Was Right to Say Marines 'Killed Innocent Civilians in Cold Blood'
Although all of the charges have been dropped against all of the Marines – except for one – involved in the killing of Iraqi civilians in Haditha in 2005, Rep. John Murtha (D-Pa.) said he stands by his May 2006 remarks that the Marines involved "killed innocent civilians in cold blood." 

"Yes, I think it was," the right thing to say, Murtha told CNSNews.com on Wednesday.  "That's my job. My job is due. Listen, the NCIS (Naval Criminal Investigation Service) came to exactly the same conclusion I did."

"They had a two-star general investigate it," said Murtha. "General Hagee went over right after I spoke out and talked to all of the Marines in the field and said 'you got to stop this kind of killing.'"
How this SOB was re-elected this year, I have no idea.
If you read the short transcript and watch the video, it appears as if Murtha went "Oh, crap, I wasn't supposed to tell the truth as I see it again. Interview over!"

If you liked my post, feel free to subscribe to my rss feeds.