There's nothing a lion likes better than stretching out in the sun to take a lazy afternoon nap.

But if they had any hopes of  warm weather, this pride in Scotland were in for a big disappointment when temperatures dropped below zero yesterday. 
Maybe they could send Al Gore over, to let loose his brand of hot air.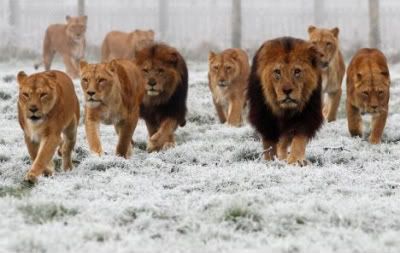 What they need are some carbon credits, in full force in the U.K.
 It was a deal to make Alistair Darling hug himself with glee. Just as the world's existing financial markets were hitting a five-year low two weeks ago, the Treasury raked in a cool £54m from a brand new one. The occasion was Britain's first auction of CO2 permits. Almost 4m were knocked down to greenhouse gas emitters in a sale that was four times oversubscribed. The government expects to sell 80m more over the next four years, raising a further £1 billion.
Let's see, £54m is, um, ah, er, well, quite a bit of loot to pay for emitting a gas that is pretty much natural. But, hey, it gets much better!
 Those millions collected by the Treasury, for example, came mainly from UK power companies, and the cost will be added directly to our bills, as will the cost of annual CO2 permits in future. More worrying still, carbon trading shows no sign of achieving its purpose: CO2 emissions have increased, not slackened, since the first trading schemes….

 British consumers are already paying about £60 extra each year on their gas and electricity bills to support renewable energy. Will they take more of this medicine in the middle of the worst recession for dec-ades? Nervous politicians remember the backlash in 2000 when angry lorry drivers almost brought the country to a standstill over the fuel accelerator tax.
So, let's see: the price to consumers goes way up, and the CO2 emmissions increased. And let's not forget that the consumers will get a double whammy, as the power companies are owned by government, which will charge these same people to pay for the carbon offsets, which the the power companies then charge them for. Sounds like a recipe for disaster, which is what Team Barry wants to do here in the USA.
 Jim Hansen, director of the Nasa God-dard space centre and a renowned critic of global measures to combat climate change, believes carbon trading is a "terrible" approach. "Carbon trading does not solve the emission problem at all," he says. "In fact it gives industries a way to avoid reducing their emissions. The rules are too complex and it creates an entirely new class of lobbyists and fat cats."
When in doubt, follow the money. All these silly schemes are not going to reduce CO2 or other greenhouse gas output: they are simply going to enrich some people, and, in the case of the average consumer, cost them more.

If you liked my post, feel free to subscribe to my rss feeds.