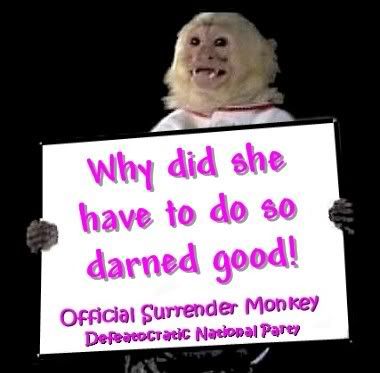 Surrendie didn't know if he should be sad because Saracuda did so well last night, or happy because so many in the Liberal media were so flumoxed by her performance that they were forced to surrender and say "She done good!" But, Surrendie loves how they have done it. Consider an Internet front page story at the Washington Post
Sarah Palin looked as though she had prepared for her appearance at the vice presidential debate last night by studying Tina Fey's impressions of her on "Saturday Night Live." She twinkled and winked and piled on the perkiness, a "darn right" here and an "I'll betcha" there.

At the same time, Palin seemed determined to banish thoughts of her as airheaded and inexperienced; she was really debating her own public image rather than Sen. Joe Biden. She subverted the whole purpose of the exercise by merely repeating the key points of her running mate, Sen. John McCain, and ignoring questions that called for more specific answers. Â 
No mention from Tom Shales about the lies of Joe Biden. Who is Tom Shales? He is a Style writer for the Washington Post. Nice to know the Post apparently has no political writers sober enough after Palin's performance (and, to be honest, let's not forget that Biden did do very well himself, certainly better then either McCain or Obama) to write a decent article. Shales' article is considered "top news," if you look at that link.
Despite the even toned article at the LA Times, one which tends to avoid the zingers by Palin, their headline says it all for those searching for some medical mary jane in the newsroom
 Palin and Biden spar in VP debate but neither deals a knockout
And, how can we ignore the Grey Lady?
Gov. Sarah Palin made it through the vice-presidential debate on Thursday without doing any obvious damage to the Republican presidential ticket. By surviving her encounter with Senator Joseph R. Biden Jr. and quelling some of the talk about her basic qualifications for high office, she may even have done Senator John McCain a bit of good, freeing him to focus on the other troubles shadowing his campaign.

It was not a tipping point for the embattled Republican presidential ticket, the bad night that many Republicans had feared. But neither did it constitute the turning point the McCain campaign was looking for after a stretch of several weeks in which Senator Barack Obama seemed to be gaining the upper hand in the race. Even if he no longer has to be on the defensive about Ms. Palin, Mr. McCain still faces a tough environment with barely a month until the election, as he acknowledged hours before the debate by effectively pulling his campaign out of Michigan, a Democratic state where Mr. McCain's advisers had once been optimistic of victory.
So, she did fantastic, but, it don't mean nuttin'.
Exit question: other then perhaps at Fox News, the Washington Times, and a few other media outlets, are there any in the Credentialed Media who do not have hangovers like Cuba just won the World Cup?

If you liked my post, feel free to subscribe to my rss feeds.