Happy Friday to all! It's that time of the week again! Do you have an interesting post you want to share with everyone? The official Surrender Monkey of the Democratic Party says to do what the Lefties don't, since they all have the same talking points: link it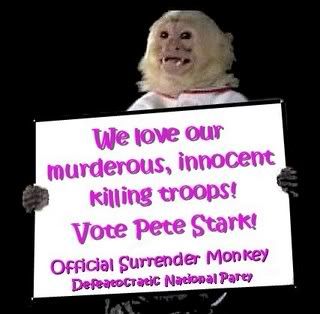 It appears that Pete Stark (Defeatocrat-Ca) wants to be the new John Murtha. This is news from Thursday, but, the Surrender Monkey really wanted to hold off and post this on his special day of the week. Let's hear what Stark has to say (via Blogs For Bush)
"You don't have money to fund the war or children. But you're going to spend it to blow up innocent people if we can get enough kids to grow old enough for you to send to Iraq to get their heads blown off for the President's amusement."
Stark has joined the "our military, particularly in Iraq, are a bunch of blood thirsty psychopaths" club, along with so many other Democrats. And you know he will not man up, come out and apologize sincerely, and ask for forgiveness. No, he and the Dems will attempt to spin this away as some sort of right wing smear job. Starting with Stark
"I have nothing but respect for our brave men and women in uniform and wish them the very best. But I respect neither the commander-in-chief who keeps them in harms way nor the "chickenhawks" in Congress who vote to deny children health care."

Congressman Stark went on to say in the statement that the Republicans should apologize for their votes against health care for children.
And on to the Democratic Underground.
Michelle Malkin catches Pete Stark posting at a very mainstream liberal site.
As Ann Coulter said "I'm upset when liberals quote me out of context. Liberals are upset when they are quoted in context."
Send a trackback to this post, but don't forget to link it.

If you liked my post, feel free to subscribe to my rss feeds.