Happy Friday to all! It's that time of the week again! Do you have an interesting post you want to share with everyone? The official Surrender Monkey of the Democratic Party says to do what the Lefties don't, since they all have the same talking points: link it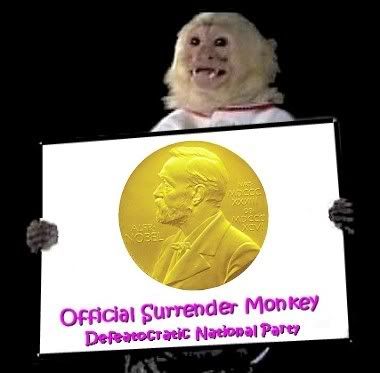 The Surrender Monkey is extremely pleased with today's news. While it does not involve Liberal surrender to a violent extremist group, it involves the Goracle, Global Warming hysteria, AND the United Nations, who/which the Nobel Prize Committee has surrendered to
Former Vice President Al Gore and the U.N.'s Intergovernmental Panel on Climate Change won the 2007 Nobel Peace Prize today for their efforts to spread awareness of man-made climate change and lay the foundations for counteracting it.

"I am deeply honored to receive the Nobel Peace Prize," Gore said. "We face a true planetary emergency. The climate crisis is not a political issue, it is a moral and spiritual challenge to all of humanity."
Oh, please. If it was actually something we could do something about, it would not be necessary to say it is a moral and spiritual challenge, it would be a real challenged. There would be no need for flowery, ass kissing speeches.
He said he would donate his share of the $1.5 million that accompanies the prize to the Alliance for Climate Protection, a bipartisan non-profit organization devoted to conveying the urgency of solving the climate crisis.
I wonder how much Gore actually makes as one of the founders of the Alliance for Climate Protection, considering it is a organization that he himself started, and serves as chairman of the board. Perhaps someone out there in Blogo Land knows how to get ahold of their money filings.
The Nobel Prize committee has basically surrendered to hysterics, mass exaggerators, and liars, most of who are not even climatologists or even any type of scientist. In England, Gore's movie has been challenged so much by rational thinking people that we get this
Teachers in Britain who show their students Al Gore's Oscar-winning climate change documentary must draw attention to inaccuracies in the movie — or run afoul of a law that bans the promotion of partisan politics at school.

A parent's legal effort to have An Inconvenient Truth banned from schools in England failed this week, but the High Court in London did say that in order not to breach legislation, screenings would have to be accompanied by appropriate guidance that points out the flaws in Gore's argument. Judge Michael Burton identified nine significant errors in the film.

Teachers are told to bear in mind that the documentary "promotes partisan political views," and to be careful that they themselves do not promote those views.
That is better then banning it from schools, due to its inaccuracies, hysteria, and outright lies. Kids will get to see it, then hear about the significant errors. They will then go on-line, and see what BS this whole climate change issue is. They will understand that it is all about Socialist control and money making schemes, especially since most who believe in climate change caused by Man fail to live the life, including Gore and the UN!
The Gates of Vienna has the nine errors.
Pajamas Media has a huge roundup.
A few others: Michelle Malkin, Stop The ACLU, Rhymes With Right, Hot Air. There are a ton at Memeorandum, including lots of liberals who certainly aren't living the life Gore and the other climahysterics say they should.
PS: since there are basically no established standards to win a peace prize, at least on their own website, just that what one is doing be sort of related to humanitarianism, yes, Gore can win. However, digging around, I found that the original purpose was to award the prize "to the person who shall have done the most or the best work for fraternity between the nations, for the abolition or reduction of standing armies and for the holding and promotion of peace congresses".
Climate change is a long way from the original purpose, eh? Of course, Stalin was also nominated several times, so…….
Evening Update: Been out and about on with some outside business deals today, so haven't been able to respond to some of the liberal hysteria out there, calling conservatives hysterical and unhinged over the Goracle getting his prize. One of the funniest ones I have seen comes to us from Talking Points Memo:
First, before any other yapping and commentary, a big congratulations to Al Gore.

There are several layers of irony and poetic justice wrapped into this honor. The first is that the greatest step for world peace would simply have been for Gore not to have had the presidency stolen from him in November 2000. By every just measure, Gore won the presidency in 2000 only to have George W. Bush steal it from him with the critical assistance of the US Supreme Court. It's worth taking a few moments today to consider where the country and world would be without that original sin of this corrupt presidency.
I guess Josh just can't move on. Nor traffic in facts, which is a shame. I always considered him to be one of the more rational lefties out there. Guess not.
From Head On Radio Network
If the right-wing is truly concerned about the "political" nature of the global warming debate, they should blame President Bush for that. He has taken very little action to fight climate change and even refuses to admit that it is manmade. He broke his promise to cap carbon emissions and insists that global warming can be fought through individual "voluntary" programs.
Of course he has taken little action. He is a politician, and he is pandering to people, like politicians do. Even if he believes that Man has some influence on global warming, he understands that in Reality Land, we can do little, and really do not want to do much, as it would destroy the American economy, as well as the world economy, which would harm the American economy.
Funny how Gore refuses to debate people like scientists and climatologists that disagree with him, eh?
However, my point here is that he and the UN do not deserve the Peace Prize. It is not what it was designed for. Neither did Martin Luther King, Jr, Lech Walesa, or Nelson Mendela/F.W. de Klerk, among others. Why? Because they were more about internal peace, not promoting the ideals of the Prize, as I posted above. They certainly deserved some recognition of their tremendous accomplishments, but not the Prize.
As far as Gore goes, he should try standing up and defending his views. Too bad he can't, and that would lower his ability to make money off his scam.
A final Saturday morning update: Allahpundit writes
I'm pleased to report that this post has earned the Enlightened Finger-Wag of Shame from Think Progress.
I am in the same arena. Good company! I was wondering where many of the liberals were copying their material lock, stock, and barrel from.

Send a trackback to this post, but don't forget to link it. Otherwise, no sweating for you!

If you liked my post, feel free to subscribe to my rss feeds.