No, really, "unprecedented." I think they are a bit too in love with words like that. Alas, if you thought those steps would bring down gas prices, afraid not. But, they have new window stickers, according to Transportation Sec. Ray LaHood
This Administration has taken unprecedented steps to protect consumers at the gas pump.  In March, the President announced a plan to reduce our oil imports by a third by 2025–leveraging domestic resources while reducing the oil we consume.  Since the beginning, this Administration has been making investments and taking smart steps that are already helping us move towards this important goal.  You can see it in our investment in alternative fuels and our support of electric vehicles–creating jobs while decreasing costs for consumers.

Most importantly, you can see it in the historic, national fuel economy standards for passenger cars and trucks achieved last year under President Obama's leadership.

Today, I'm excited to join Environmental Protection Agency Administrator Lisa Jackson in introducing new fuel economy labels that will empower car buyers with better information about what they will spend or save on fuel costs when looking to purchase a new vehicle. This is one part of President Obama's plan to provide Americans with relief from high gas prices and break our dependence on foreign oil.
Unprecedented, historic, and exciting ….. labels. No, seriously. I did not pull this from The Onion. It is on the official White House blog (sadly) along with LaHood's DOT blog.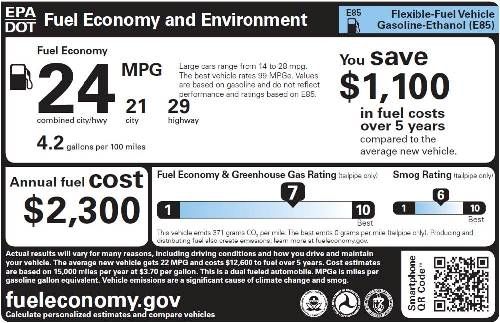 Isn't that great? We can find out the fuel economy AND greenhouse gas rating together! All at $3.70 a gallon. Guess they aren't planning on any sort of fuel cost decrease.

If you liked my post, feel free to subscribe to my rss feeds.