The better back her, otherwise she will turn them into a newt. Here's the latest insanity from Think Progress
Last night, Real Time aired its first show of the current season. Maher began by mocking O'Donnell, calling her "an uemployed, anti-masturbation activist and a close friend of mine." "I created her," Maher told the audience, turning to the camera and stating, "You owe me Christine O'Donnell." Maher said that he has great fondness for O'Donnell, adding, "She does not have a mean bone in her body, or any other bone in her body."

Later in the show, Maher played a previously-unaired Oct. 29, 1999 clip of O'Donnell on Politically Incorrect, in which O'Donnell said she once "practiced witchcraft":

O'DONNELL: I dabbled into witchcraft — I never joined a coven. But I did, I did. … I dabbled into witchcraft. I hung around people who were doing these things. I'm not making this stuff up. I know what they told me they do. […]

One of my first dates with a witch was on a satanic alter, and I didn't know it. I mean, there's little blood there and stuff like that. … We went to a movie and then had a midnight picnic on a satanic alter.
All of these personal smears just makes Christine O'Donnell appear to be just a normal American who can do wild and wacky things, like we all do. Let's also not forget that Politically Incorrect was known for people saying wacky things. Besides, I thought the left was all about tolerance for other peoples' peculiarities. But, really, if this is the best they can do, constant personal smears, the Delaware election could get very interesting, when she is out there talking about policies and agenda's, and Democrats have nothing with which to rebut.
PS: What is worse: some personal idiosyncrasies that harm absolutely no one, or policies that are destroying the American economy, American jobs, and the safety and security of this nation?
Double PS: Which one do you want?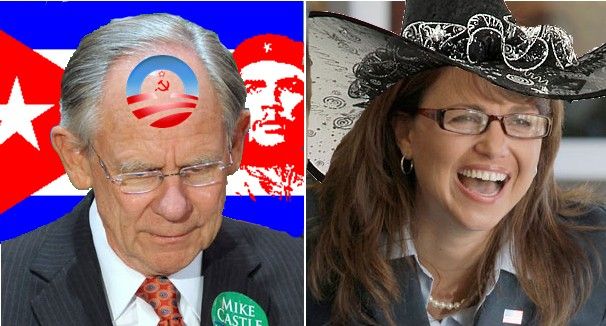 More: Doug Ross
Would anyone in legacy media be upset if Christine O'Donnell admitted that, decades ago, she'd dabbled in Islamic Sharia law?
Of course, the answer is "no."
Seriously, as for some of the other Republicans/Conservatives having hissy fits over this, take a Prozac. Seriously. Then remember that parable about throwing stones. And ask yourself if you have ever done something really bad.

If you liked my post, feel free to subscribe to my rss feeds.