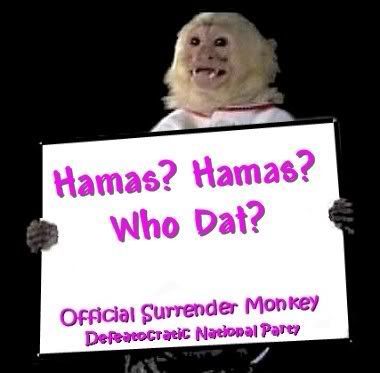 Surrendie would have much preferred covering the Jimmy Carter (hearts) Hamas story from yesterday, but, the United Nations' and CNN's pro-Hamas stance works, too: Israel brushes off U.N. cease-fire resolution
Israel continued its offensive in Gaza on Friday, hitting more than 50 targets, despite the U.N. Security Council's call for an immediate cease-fire.

Prime Minister Ehud Olmert said Israel was disregarding the U.N. vote because the resolution will not be heeded by "murderous" Palestinian groups. The firing of rockets from Gaza into southern Israel on Friday, he said, "proves the U.N. resolution is not practical."

"The state of Israel has never agreed that any outside body would determine its right to defend the security of its citizens. The IDF will continue operations in order to defend Israeli citizens and will carry out the missions with which it has been assigned in the operation," Olmert said. (snip)

Although the resolution does not mention Hamas by name, it does condemn "all violence and hostilities directed against civilians and all acts of terrorism." 

A resolution from the council, particularly one that passes with such large support, can put international pressure on parties involved in a conflict. But they are in no way binding, and many in the past have been ignored by warring factions.
Hamas? Who's that? How does the resolution put pressure on Hamas when they are not even named? Oh, I forgot, it is all the fault of the EVIL JEWS!!!!!!!, just like every other problem in the world (OK, BIG OIL!!!!! and AMERICA!!!! also get blamed.)
And CNN forgot some vital information. Let's ask the BBC, shall we?
Hamas has also dismissed the UN ceasefire call.

Ayman Taha, a Hamas spokesman in Gaza, said: "Even though we are the main actors on the ground in Gaza, we were not consulted about this resolution and they have not taken into account our vision and the interests of our people."
Reading, it appears that even Hamas is getting a bit ticked off that the United Nations is ignoring their part in the conflict.

If you liked my post, feel free to subscribe to my rss feeds.