A story to make all the Israel/Jew haters heads explode: Israel Launches Fresh Attacks in Seventh Day of Fighting
Israel bombed a mosque and the homes of at least half a dozen Hamas leaders in the Gaza Strip on Friday and allowed foreign passport holders to leave the ravaged territory, as speculation rose that a ground assault could be imminent.

Israel's offensive in Gaza, which began last Saturday, has been carried out exclusively by air and by sea. After a day of heavy rain, the weather improved Thursday, and military analysts said Israeli tanks and other vehicles massed on Gaza's border could more easily enter the territory.

"The forces are there, and they're ready for anything," said an Israeli military spokeswoman, Maj. Avital Leibovich.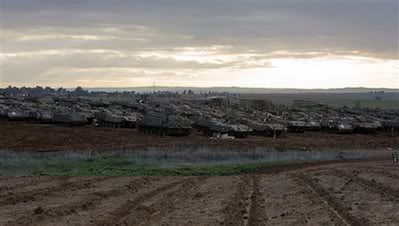 It's rather thin speculation, eh? But, how about a little Liberal World thought
Already, the air campaign has made this the bloodiest conflict in Gaza since Israel seized the territory in 1967.
The WP makes it sound like it was Israel that just decided "hey, we are going to just take Gaza," rather then Israel having won the land in a war that the Arab nations started.
Anyhow, I'm really glad that the WP included the feeling and thoughts of a Muslim reporter reporting from Gaza City.
Hey, a few choice comments from unhinged liberals
Israel=War criminals , land thieves and spies.
Death to the JEWS and Israels, who killed innocent people. The world community should scrap immediately the epic center of terrorism the UNITED NATION.
And the world stands by with the finger up their noses watching israel continuing the carnage and massacre
 My sincere condolences to the Palestinian people. What happens in Gaza since Saturday (27) is a DEEP COWARDICE.
Hitler must have known something about these racist jews, and i wish he had exterminated all of them. They are committing war crimes, that is 400 dead in 4 days, they hare nasty bigots
The Gaza Ghetto is the largest prison on the world, one and a half million people encaged by an occupying power in a space one-fourth the size of the city of Houston. Since November 4, Israel has reduced by 90% the essential supplies, including food, fuel and medicine allowed in as authorized by U.N. mandate.The Gaza Ghetto resembles WW II's Warsaw Ghetto more and more. The Warsaw Ghetto's resistance started 66 years ago on January 18. The Final Solution to the Warsaw Ghetto was instituted by General Stroop three months later. The military might of Israel attacking the Gaza Ghetto is similar to Stroop's force against the Warsaw Ghetto. Stroop was executed as a war criminal in 1952.
Next time the Washington Post complains about nasty comments left on blog posts……

If you liked my post, feel free to subscribe to my rss feeds.