Ceasefire ends. Hamas lobs missiles. Israeli bombs the crap out of them. Hamas threatens violence. Just another day for the religion of peace
Israeli aircraft launched air attacks across Gaza on Saturday, killing at least 150 people, including the Hamas police chief and other officials, according to Israeli and Palestinian sources.

Palestinian medical sources said 250 people were wounded.

The strikes followed several days of rocket attacks from Gaza into Israel.

A statement from the Israel Defense Forces (IDF) said Israeli aircraft attacked "a series of Hamas targets and infrastructure facilities."

"The Air Force activity came as a result of the continuation of terror activity by Hamas terror organization from the Gaza Strip, and the duration of rocket launching and targeting Israeli civilians," the IDF statement said.

Hamas immediately threatened violent retaliation against Israel.
Anyone notice that the attacks from Gaza were barely covered by the Credentialed Media? Tiny stories, deep in websites and papers. And, of course, this story tends to focus on how badly the Palestinians were hurt. But, hey, if your out in the wilds and you mess with a bear, you're going to get hurt. Especially after Rocket kills 2 children after Gaza border reopens.
Anyhow,
Hamas police stations were hit, killing many senior police commanders, the reporter said.

Maj. Gen. Tawfeeq Al-Jaber, a senior commander in the Hamas police force, was killed, Palestinian sources said.
Good. Take the little jihadi's down.
Switching to YNet
Moussa Abu Marzouk, deputy head of Hamas' Damascus-based political bureau, said his organization would retaliate. "We will defend our women and children by any means necessary. All the options are open," he said.
Kinda hard to defend them when the terrorists hide behind them, surround their weapons caches with them, etc.
Senior Islamic Jihad figure Khaled el-Bash told Al-Jazeera that the IDF strikes "mean war."

"Israel has declared an open war on the Palestinian people. This never would have happened had it not been for the Arab states' silence. We will never surrender in the face of planes and tanks," he said.
You might not surrender, but you will surely die.
Two interesting DU threads (here and here)Â to keep an eye on. Some are backing Israel, some are, as usual, backing the terrorists, including this gem
For a country ran by a group of people who demand that the world acknowledge their version of history as to what Nazi Germany did to their ancestors it sure does fly the true flag of the utmost hypocrisy! I think I'll puke the next time I hear about the poor peoples of Israel. More like the poor people of Palestine! These acts of war crimes perpetrated against Gaza would make Hitler blush and Mengele turn in his grave. The international community should embargo Israel, demand it to pay reconstruction costs and send the leaders who are guilty of planning and ordering the actions accosted towards Gaza to the Hague on charges of crimes against humanity and genocide. Sound familiar?

On another note. Like it's the Palestinians who were launching "homemade" rockets at Israel. It's the mossad doing their dirty work, as usual, trying to divert the focus away from the crimes Israel is committing against Gaza and the magnitude of suffering they are causing women, children, and the elderly of Gaza, all with the excuse "hamas is a terrorist faction". Hamas pales in comparison to Israel for being a terrorist faction. Hamas was democratically elected, for Israel to denounce a legitimate election is another reason for the west to embargo them.
Yikes!
More: It would probably be easy to snark at what appears to be some NY Times bias towards those poor Palestinian terrorists, but, after the headline and the first three paragraphs, looks like the Times has little sympathy
Though Israel had been threatening to end its policy of restraint that saw only limited strikes against rocket launchers and squads in recent days, the timing of the raid came as a surprise to Gazans. It came in mid-morning, when official buildings and security compounds were filled with personnel and children were at school, and not, as many had anticipated, at night.

Expecting some kind of Israeli response, the Hamas leaders in Gaza had already been in hiding for two days.
Poor babies. How dare Israel attack at the wrong time. Notice the leaders were already in hiding, leaving everyone else to be out in the open. Brave folks, those Islamist leaders.
The world should step aside and quit interfering in the war Hamas so desperately wants and will desperately lose if left to their own devices. As long as Hamas controls Gaza, a state of war exists, and cease-fires do nothing to advance peace, as this year has proven yet again. Tiresome calls for "restraint" don't work when one side is determined to have war. The best way to resolve this conflict is to allow Hamas to have its war and get utterly crushed by Israel or overthrown by Gazans to avoid that unavoidable conclusion.
Huzzah!
Interestingly, what will Obama do if this starts getting more out of control, as has happened many times? He will have his hands full, so, he best be ready, particularly as his base calls for abandoning Israel and even supporting Hamas, Islamic Jihad, and the other Islamist groups in the area. Riggworld asks the same thing.
Others: Jules Crittedon, A Blog For All, Gateway Pundit, Tel-Chai Nation, Little Green Footballs (which has some video)
Woops! Why am I not surprised that the Huffington Post is taking the side of the Palestinians and using a story that is completely bias towards the sides of the terrorists?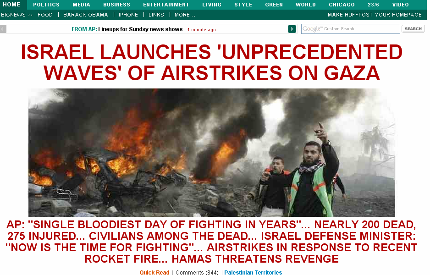 There are completely unhinged, nasty nasty comments about Israel. Not that I am surprised, mind you.
More from the Liberal-o-sphere:
Excitable Matt Yglesias is blaming it all on Israel, making them out to be the bad guys.
Crooks and Liars blames it on Bush. Might be time to MoveOn from the BDS, guys.
Firedoglake has a standard hissy fit, taking the "so, Hamas only killed one Israeli" with their continued attacks, so "why be so mean back?" road.
Femeniste:  "This is f*cked up. That's all I'm going to say. And my thoughts are with the Palestinians living in Gaza."
Lawyers, Guns, And Money: "I assume most of our readers will (like me) see the Israeli response as disproportionate and also see Hamas' apparent conviction that this time firing some rockets at civilian targets will achieve political and security goals is roughly as rational as the continuation of the American embargo against Cuba."
Are you surprised?

If you liked my post, feel free to subscribe to my rss feeds.