Earlier, Captain Ed wrote about many of the major media outlets ignoring a story that is good news from Iraq, namely a dramatic decline in violence in Iraq.
Violence in Iraq has dropped by 70 percent since the end of June, when U.S. forces completed their build-up of 30,000 extra troops to stabilize the war-torn country, the Interior Ministry said on Monday. …
But there is another related story out there regarding the amazing drop in violence.
 Naji Mohammed Adel (not his real name), 22, has reopened his music store in eastern Baghdad nearly two years after al-Sadr followers went to his shop and left a threatening letter asking him to shut it down because it contravened their perception of Islamic law.

W.N., a 33-year-old female hairdresser who has a salon in a western neighbourhood of the capital, is now serving clients again after extremists had previously threatened to "have her head chopped off" if she stayed in this "sinful" business.
That seems good, eh? But, gotta have that black lining, though
Taxi driver Ahmed Khalil Baqir used to station himself outside Baghdad's main morgue, waiting for grieving families who went there to claim their relatives' dead bodies.
"I was totally dependent on them for my living," Baqir, a 44-year-old father of four, said." I never thought about picking up people in the street as I was being hired five to eight times a day by these families. But now it is a waste of time to wait there and these days I wait only for about three hours in the morning and I continue my work picking up passengers in the street."
When all is darkest, the media can turn it pitch black.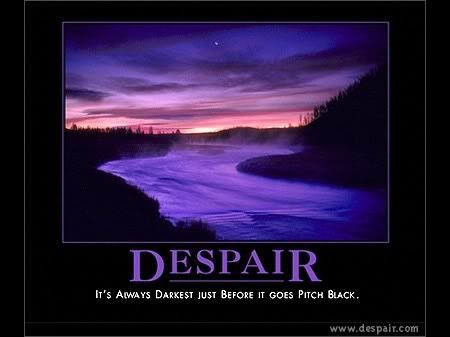 Trackposted to Outside the Beltway, Perri Nelson's Website, Blog @ MoreWhat.com, Adam's Blog, The Populist, The Pet Haven Blog, Stuck On Stupid, Leaning Straight Up, Conservative Cat, Conservative Thoughts, Adeline and Hazel, Pursuing Holiness, Diary of the Mad Pigeon, Blue Star Chronicles, The Pink Flamingo, Right Voices, Gone Hollywood, and The Yankee Sailor, thanks to Linkfest Haven Deluxe.

If you liked my post, feel free to subscribe to my rss feeds.