This exchange has it all. Hysteria. Insanity. Ultra Progressive Talking Points. The inability to substantiate claims. Continuous, non stop chatter, including interruptions, with said talking points without giving the other side a break. False "facts." In other words, today's typical moonbat.
Judge for yourself, as Sunsara Taylor takes on O'Reilly
Video: World Can't Wait Vs Bill O'Reilly
Also available at Youtube.
The problem with opinion and news shows today is that exchanges have to fit into a short period of time, so that a host, or guest, mind you, cannot spend the time rebutting and forcing someone to answer a question when they are going off the reservation.
And, you have to just love, as pointed out above, the way she just kept yammering on and on. How rude!
Anyhow, what else could you expect from an organization that features Lynne Stewart, convicted of conspiracy, providing material support to terrorists, and defrauding the U.S. government, on their advisory board. She has represented some of the worst scum, and gone beyond her lawerly duties.
And, how about Howard Zinn? He combines elements of socialism and anarchism, and is an avowed America hater.
And Debra Sweet, an anti-war holdover from the Vietnam era, who, like most, blames Nixon for Vietnam, forgetting that it did not start on 1/20/1969.
But, don't say the Left doesn't support supports the troops, as highlighted by Little Green Footballs and Michelle Malkin. The photos were found at Indymedia
Such support.
And, another example of Leftards inability to draw the peace sign correctly (previously here and here)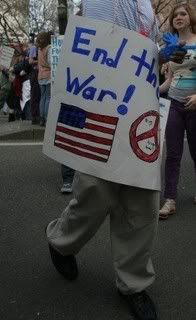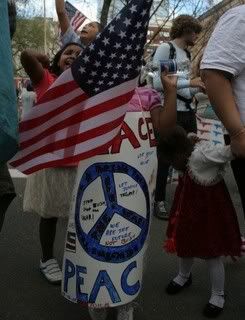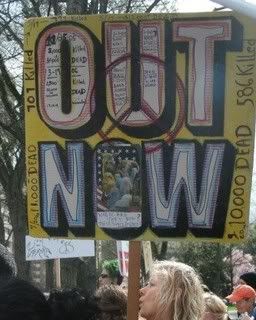 They even dragged their children into their moonbattery, though I have cropped the faces out.
And, of course, the obligatory support for Islam.
Citizen Smash at The Indepundit has an excellent post, Marching With Moonbats, Part I: The Radicals. Check it out.
Trackposted to Outside the Beltway, Blog @ MoreWhat.com, Perri Nelson's Website, Allie Is Wired, Right Celebrity, Faultline USA, Wake Up America, Adam's Blog, basil's blog, The Pink Flamingo, Planck's Constant, and Gone Hollywood, thanks to Linkfest Haven Deluxe.
Followup: LOL. Prison Planet actually picked the video up off of Youtube, with their own little spin.

If you liked my post, feel free to subscribe to my rss feeds.