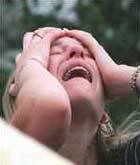 Caught this blurb on RSS from Right Wing News this am, in which I suppose John cut the excerpt down to size, removing his commentary. Shame, because it was good (from the Huff Post)
We all know the neocons won't cede power easily. They have to be aware that if the tide of Congress turns, Bush's last two years will be mired in gridlock and perhaps even be punctuated by several embarrassing congressional investigations. Of course, Cheney did say last week that everything in Iraq is hunky dory, which leads one to believe that after James Baker's devastating report and the escalating mass destruction of the war, Dickey-boy has simply lost it. But whether it is hubris, loony tunes, or both, the White House's freakish calm about the elections makes me as nervous as the hell we seem to be headed for. Therefore we should all be on alert. If for whatever reason we don't win back Congress in November the only real answer will be to take to the streets.
How fun would it be to watch the moonbats march and demonstrate and do their loony things in plain view of video and static cameras? All you need to do is vote GOP.

If you liked my post, feel free to subscribe to my rss feeds.