This caught my interest from Tom Nelson's site because it mentioned my home state
Fear and Loathing of Climate Change

Now that summer has come to a close and everyone is returning to their homes with tales of downing oyster shots and hiking the continental divide, I think it's appropriate for me to share how I spent my summer vacation. I wasn't jet skiing in Miami or visiting the coffee houses of northern Europe. I was doing what every good scientist should do is this day and age—climate change tourism. I was visiting a place that won't be around 100 years from now. And I'll be honest with you, it was awesome.

Where was this incredible vacation-land? The beaches of North Carolina, of course. North Carolina is rather notorious now for passing legislation that doesn't allow for the consideration of sea level rise for ocean-side management. Which leads to oodles of lovely beach-front property built high on stilts, for seemingly mysterious reasons…totally unrelated to the ocean….
I wonder how people get around when engaging in "climate change tourism"? It would certainly be tough to walk or ride a bike all the way from the UC Museum of Paleontology in California to the NC, wouldn't you say? The picture that accompanies the post says Oak Island, which is just south of Wilmington and Southport. Here's comes some pesky data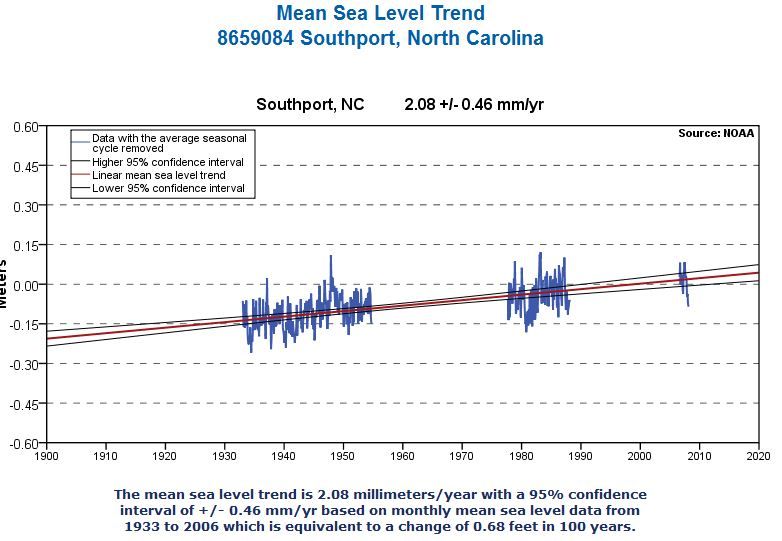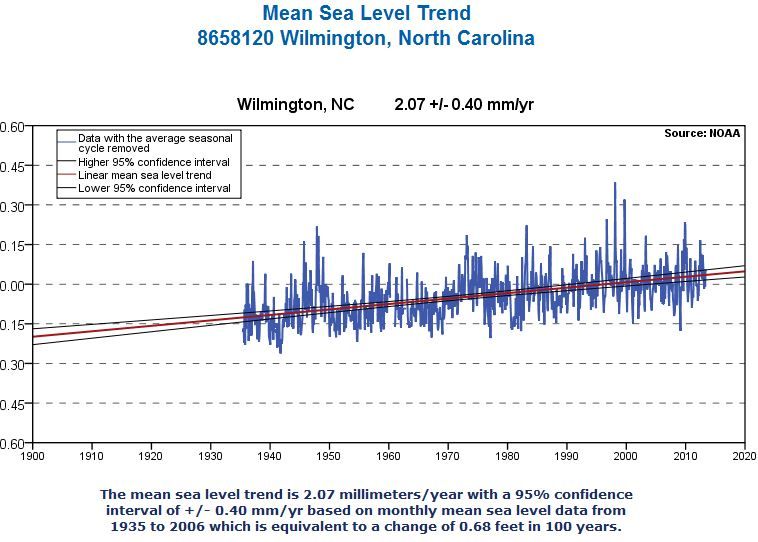 .68 feet per century. Not exactly scary, and perfectly average for the last 7,000 years. One would think if this was a horrendous warm period the sear rise would be greater.

If you liked my post, feel free to subscribe to my rss feeds.