The only one traumatized in this whole affair is the 6 year old, who was the recipient of unhinged anti-gun behavior by adults who care little for the mental affairs of children
(The Blaze) A 6-year-old kindergarten student in Massachusetts is accused of causing a "disturbance" and "traumatizing" other students by bringing a very tiny plastic toy gun on the school bus last week.

The "gun" brandished by the young boy was barely bigger than a quarter.

The child's mother, Mieke Crane, told WGGB-TV that school officials at Old Mill Pond Elementary in Palmer, Mass., seriously overreacted after another student saw the toy and told the bus driver on Friday.

The driver said the 6-year-old "caused quite a disturbance" and left other children "traumatized," according to Crane.

The kindergartener has been forced to write an apology letter to the bus driver. He was also given detention on Tuesday and may temporarily lose his bus riding privileges.
This is the result of the "zero-tolerance" policy (much like liberals have zero-tolerance for anything they disagree with…unless it is Jihadists killing people with guns, then they say we need to understand them, tolerate their diversity and points of view, and meditate on what we did wrong to make them hate us), where even cookies bitten into the shape of a gun are horrific offenses, or, if the gun is like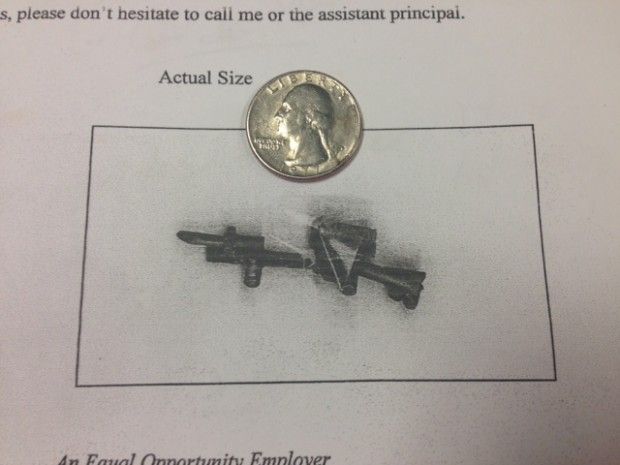 Only in Liberal World would that cause such a freakout. And now the 6 year old is most traumatized, depressed, and will be mercilessly teased by his classmates. Good job, Liberals!
Crossed at Right Wing News and Stop The ACLU.

If you liked my post, feel free to subscribe to my rss feeds.