A bit of typical unhinged derangement and lying from Crooks and Liars to amuse you as you start your Sunday: Wisconsin Protesters Breitbarted Over Bogus Teachers' Excuses
Fox News broke this bulletin about an hour ago. It stems from a video posted by the MacIver Institute Wisconsin alleging that a doctor is signing bogus excuses for teachers protesting in Madison. Because it is illegal for teachers to strike, they called in sick and have been told they will have to produce a valid doctors excuse in order to be excused for their absences.

So isn't it interesting that a right-wing organization would produce a news report saying such excuses are fabricated? Usually, the way this works is that part of the final negotiation also forgives the days missed for protests, by the way, so this is ginned up nonsense from the start.
The story goes on to provide the typical smears against the MacIver Institute that the Left is known for, then goes after Christian Hartsock
So we're clear on this, Christian Hartsock, the guy "interviewed" and also the guy who probably produced that first video is the same guy who helped out with the smears of ACORN and New Jersey teachers, and he works for Andrew Breitbart.

Breitbart has bragged about being at the protests in Wisconsin today. Americans for Prosperity is linked to the MacIver Institute. A Breitbart video smear guy is quoted in an article smearing teachers. Figure it out.
Nowhere does Crooks and Liars, the perfect name for a Progressive blog, provide any substantive proof that the story is fake. Furthermore, perhaps they missed this?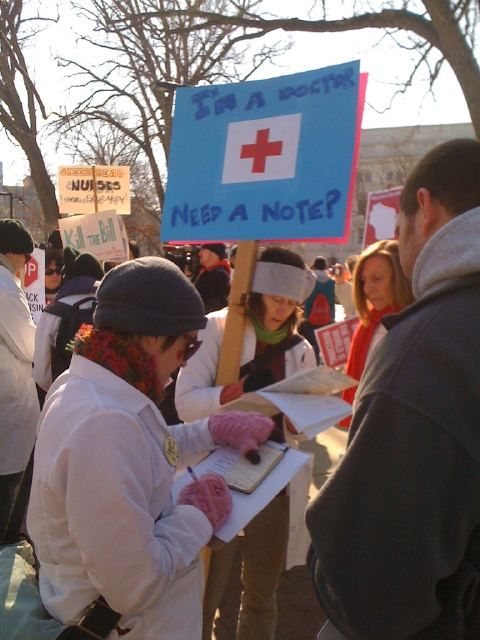 No, I didn't find that one at Fox News, or, as they like to call it, Faux News. That came from the Democratic Underground. In fact, most of the DUers were proud that a doctor would provide notes. And someone at the DU quickly tried to use the C&L story to rebut the photo evidence, but, whoops! ABC News provided a story about doctors saying they would provide notes for the protesters who lied about being sick.
Interestingly, Ann Althouse has this photo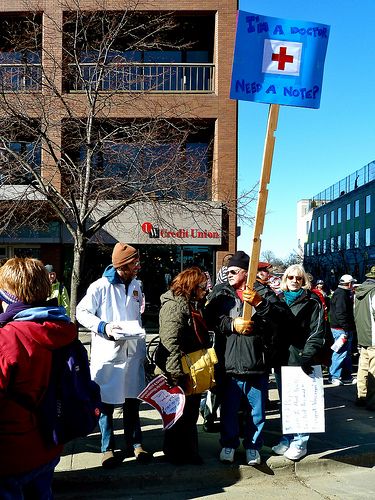 Hey, that sign looks familiar. The person doesn't, though. It's almost like they are…..organized and astroturfed.
So, there you go, C&L, pictorial evidence that doctors are offering to write notes for the protesters.
Crossed at Right Wing News and Stop The ACLU.

If you liked my post, feel free to subscribe to my rss feeds.