Late afternoon update: One Nation (fail) has their own estimate
One Nation spokeswoman Denise Gray-Felder estimated the crowd at between 175,000 and 200,000 people — fewer than the 300,000 to 500,000 claimed by Beck for his rally.
Oops.
Still NO overhead shots available at any of the media outlets.
Mid-afternoon update: here's the best photo I can find of attendance. No overhead shots as of yet. (a few photos of the unhinged in the individual post)
Lots of empty space, eh? Interestingly, the Yahoo News photostream of the event is mostly comprised of the Glenn Beck rally.
(Start of original post) Oh, sorry, I must have been imagining the headlines at CNN, MSNBC, and CBS later this afternoon once the rally is in full swing. It runs from 12-4, a time picked to apparently allow all the astroturfed buses to make it to the rally
Union organizers, environmentalists, educators, anti-war protesters and civil-rights and gay-rights groups say they've got 2,000 registered buses heading to Washington to re-invigorate a liberal base that has been apathetic at best and in some cases downright critical of President Barack Obama's agenda.
Astroturf. Also, it's probably difficult to get liberals up so early on a Saturday, what with the cocktail parties and the drinking themselves blind after a typical week of rage.
Progressive groups hope to draw tens of thousands of supporters to the Mall on Saturday and create a show of force that will rival the conservative tea party movement.

The One Nation Working Together march is the culmination of months of planning begun by civil rights organizations and labor unions. In recent weeks, more than 400 supporting groups have signed on to the rally, which is to span four hours and feature speeches, poetry and musical entertainment.
Astroturf. And, I was at Glen Beck's rally: there were at least 500,000 people there. Getting a hotel room was a nightmare. I waited too long, and, two weeks prior, the best I could get was either a cheapo in a bad neighborhood way out from DC, or $130 close in. I stayed at the expensive for just Friday night. Even Saturday nights were booked. Take a look at the hotel availability in the DC area, using Orbitz or Travelocity: rooms to be had for Saturday night! When I had checked Orbitz for hotels in Arlington, they were mostly booked for the Saturday of the Glen Beck rally. Now? They all have rooms.
But, don't worry, no astroturf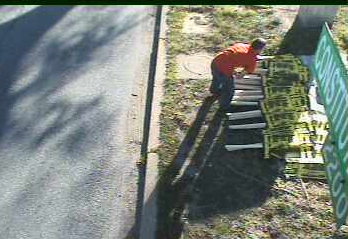 That screen capture is from the traffic camera at 23rd and Constitution, right near the Lincoln Memorial, at about 9am.
More: Obama could apparently care less about the rally. He's spending the weekend at Camp David (last paragraph).
Switching between Fox, CNN, and MSNBC, the video shows that barely anyone is there. I bet we do not see any overhead shots of the rally.
Michelle Malkin calls it Left-a-palooza. Nice Deb has some great pictures of One Nation Of Moonbats. Also, she points out that CSPAN will be streaming live starting at noon
Any bets on how filthy the lefties leave the area?
Crossed at Right Wing News and Stop The ACLU. Re-Change 2010!
Pictures in the individual post
Typical unhinged.
Nice. I thought this was about progressive values of diversity and unity? Only a liberal would make a sign like the one on the left.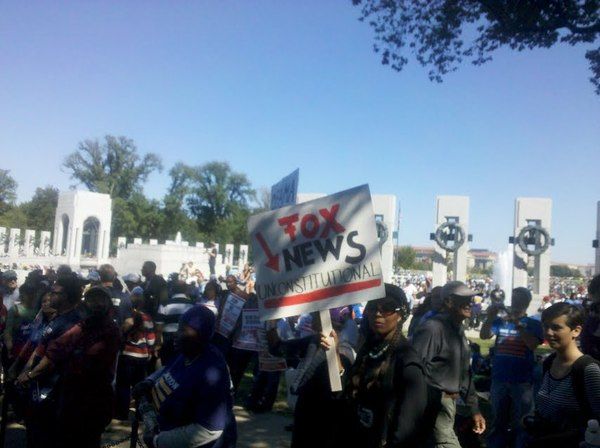 Via Amanda Carpenter
Oh, hey, I love reading unhinged progressive talking points.
Jenny Erikson has photos of some of the mess left by the little worker bees. So does Marooned In Marin.

If you liked my post, feel free to subscribe to my rss feeds.