I oughta take a picture. On the right side of my head, right where sunglasses would be, I have a small burn mark in the shape of a .22 cartridge. Damned thing flew out, landed on the shooting glasses. Crap that hurt!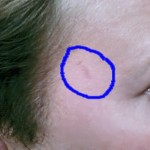 Click for full size. Trying a new plugin, FancyZoom
Kinda hard to see, but, nice little "T," eh?

If you liked my post, feel free to subscribe to my rss feeds.