Sarah Palin has inspired editorials, blog posts, investigations and dispatches galore since her announcement as the Republican vice-presidential nominee four weeks ago. Now she's the subject of a nude portrait, unveiled Thursday and drawing crowds to the Old Town Ale House on Chicago's North Side. (Uncensored painting can be seen here. -Ed.)

The four-foot-tall oil painting depicts the current governor of Alaska standing atop a polar bear-skin rug in her living room, nude, except for a pair of red stiletto heels and her trademark eyeglasses. In the picture she leans on an automatic rifle while beaming a megawatt smile. Behind her, a window looks out onto a pristine Alaska landscape, complete with a moose that has just ambled into the frame.
In case one thinks this is just mean and rude
The portrait fits right in at the ale house (Yelp reviews), a dark and famously dingy bar frequented by Second City performers and crew, whose walls are adorned with more than 200 paintings of bar regulars and well-known Chicagoans, often engaged in various sexual acts. The Palin portrait has quickly become the bar's star attraction, drawing a steady stream of picture-snapping admirers. According to the hand behind this and the rest of the paintings, former golf hustler and bar co-owner Bruce Elliott, his latest piece is even pulling in regulars from rival establishments.
It seems a bit tamer then most of the others at the bar.
Non nude below the break. Not the best likeness, but, meant to be sorta a caricature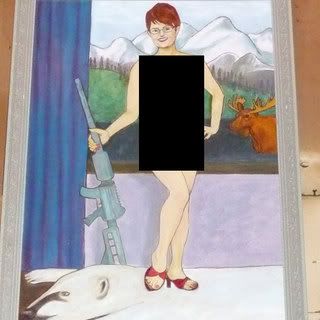 If you liked my post, feel free to subscribe to my rss feeds.