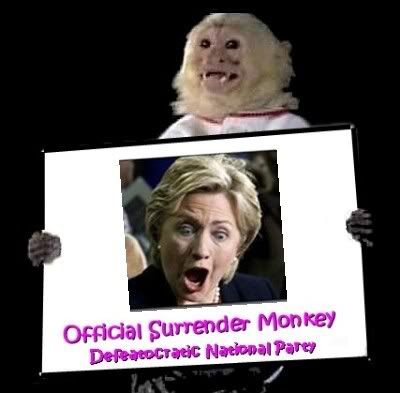 Surrendie loves when Democrats beg. It makes him feel dirty, and all warm and gushy inside (which is usually a good time to get your umbrella out around monkeys)
Hillary Clinton pleaded for partisan unity on Thursday, urging Democrats not to abandon their party to vote for John McCain if their preferred candidate fails to secure the nomination.

A Gallup poll released this week indicated that 28 percent of Clinton's supporters would back McCain should the New York senator lose her quest for the Democratic nomination.

That compares to the 19 percent of Obama supporters who say they will favor McCain should Clinton be the party's nominee.
Heh heh. If Hillary gets the nod, I wonder if there will be lots of suicides by way of gunshot to the back of the head by those who have crossed over and voted for McCain.
This also shows that Clinton, like the rest of Democrats, finds it more important to keep the Dems in power, rather then voting for the best candidate.
Meanwhile, an interesting catch at the DU by taterguy, Hillary Fails NC Values Test
Here's an excerpt from an actual interview she gave yesterday:

"Q. One last thing: Do you prefer Western North Carolina barbecue or Eastern North Carolina barbecue?

A. (Laughter) I know a question not to answer. I just like barbecue. I'm kind of an equal-opportunity barbecue eater."

North Carolina is a Mono-Que-ist state. For inexplicable reasons it is unacceptable to enjoy both Eastern and Western barbecue. Saying that you like both is just deviant and wrong according to Que connoisseurs. Don't ask why. That's just the way it is. You might as well pray to more than one God in these parts.

Put a fork in her.

She's done.
I would have loved to go hear the speech, but, Real Life interfered. And, for the record, since she was in Raleigh, the correct answer would be Eastern NC barbecue. And, BTW, when it comes to barbecue, what taterguy wrote is as serious as a heart attack.
Trackposted to third world county, Woman Honor Thyself, Right Truth, The Pink Flamingo, Cao's Blog, The Amboy Times, , Rant It Up, and The Yankee Sailor, thanks to Linkfest Haven Deluxe.

If you liked my post, feel free to subscribe to my rss feeds.