Damn, I'm worried
The Muslim world has created a battle plan to defend its religion from political cartoonists and bigots.
Bigots? I guess that is better then being a person that is actually desecrating non-Muslim icons and killing non-Muslims simply because they are non-Muslims.
Anyhow, it is a step up in the civilization mode for the RoP.
Think the AP is pimping for Muzzies too much?
Concerned about what they see as a rise in the defamation of Islam, leaders of the world's Muslim nations are considering taking legal action against those that slight their religion or its sacred symbols. It was a key issue during a two-day summit that ended Friday in this western Africa capital.
Don Singleton says of the Muslims feeling put upon: Could that have something to do with the 10729 terrorist acts since /11? 
The Colossus Of Rhodey, in regards to the Muslims battle plans for suing: "Battle plan?" Hasn't that already been demonstrated? Namely, riot and put out a contract for people's deaths?
Tammy Bruce: When you're more upset about about a cartoon then the victims of Islamist terrorism, you're psychotically deranged
Gateway Pundit tells them to shut their pie holes.
Muslims can suck it up. In the civilized world, we have something called free speech, which allows me to do things like (some are rather offensive)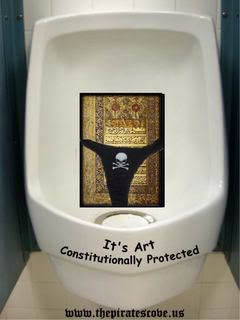 If you liked my post, feel free to subscribe to my rss feeds.