Happy Friday to all! It's that time of the week again! Do you have an interesting post you want to share with everyone? The official Surrender Monkey of the Democratic Party says to do what the Lefties don't, since they all have the same talking points: link it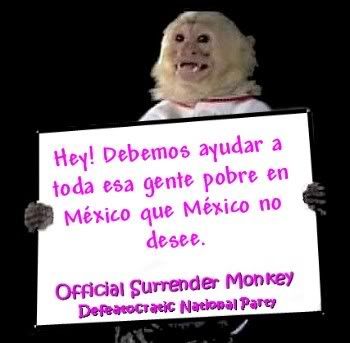 Now, if one wants to read a story that makes the Surrender Monkey happy, one must either go to a very conservative news site, which slaps Dems around, or the New York Times, which generally starts the surrender stories. The Times has outdid themselves on the illegal immigration issue with this one
For years, millions of Mexican migrants working in the United States have sent money back home to villages like this one, money that allows families to pay medical bills and school fees, build houses and buy clothes or, if they save enough, maybe start a tiny business.

But after years of strong increases, the amount of migrant money flowing to Mexico has stagnated. From 2000 to 2006, remittances grew to nearly $24 billion a year from $6.6 billion, rising more than 20 percent some years. In 2007, the increase so far has been less than 2 percent.

Migrants and migration experts say a flagging American economy and an enforcement campaign against illegal workers in the United States have persuaded some migrants not to try to cross the border illegally to look for work. Others have decided to return to Mexico. And many of those who are staying in the United States are sending less money home.

In the rest of the world, remittances are rising, up as much as 10 percent a year, according to Donald F. Terry of the Inter-American Development Bank. Last year, migrant workers worldwide sent more than $300 billion to developing countries — almost twice the amount of foreign direct investment.

But in Mexico, families are feeling squeezed.
Got that? The Grey Lady is saying that us American citizens are bad people for doing things like slowing illegal immigration, forcing them to return to Mexico, and just not giving, dammit! Apparently, we should not only be letting illegals in left in right, so they can send money earned (illegally) here in the USA so they can send it out, we should be enabling them personally. You know, because we just are nice enough like the rest of the developed world, which in Liberal Speak, means Europe.
The Times actually blames the housing slump for not providing enough jobs for illegals, as well as, in typical liberal fashion "mounting anti-immigrant sentiment," which is code word for "you damn evil, bigoted, hateful scumsuckers, you!"
The Times has truly surrendered to the illegal Hispanic lobby on this one.
But at least we have them on record saying that the economy is flagging, which means it is not in recession, which is their normal stance!

Send a trackback to this post, but don't forget to link it. Otherwise, Times poop on your doorstep for Halloween!

If you liked my post, feel free to subscribe to my rss feeds.