Let's ask Fred Thompson, writing over at National Review (h/t Blogs for Bush)
Some people think that our planet is suffering from a fever. Now scientists are telling us that Mars is experiencing its own planetary warming: Martian warming. It seems scientists have noticed recently that quite a few planets in our solar system seem to be heating up a bit, including Pluto.

NASA says the Martian South Pole's "ice cap" has been shrinking for three summers in a row. Maybe Mars got its fever from earth. If so, I guess Jupiter's caught the same cold, because it's warming up too, like Pluto.

This has led some people, not necessarily scientists, to wonder if Mars and Jupiter, non signatories to the Kyoto Treaty, are actually inhabited by alien SUV-driving industrialists who run their air-conditioning at 60 degrees and refuse to recycle.
Now, this will beg the question, "what the hell does an actor and former Congress Critter (and hopefully a Presidential candidate) know about climatology? WHAT are his degrees?"
Well, he has the same degrees as Al Gore.
But, let's check with the scientists.
How about all the way back in 2001
Mars would make a lousy host for the Winter Olympics. Yes, there's the lack of air to consider. But more important, Martian snow turns out to be rock hard. Worse, it is melting away at an alarming rate.

In fact, Mars may be in the midst of a period of profound climate change, according to a new study that shows dramatic year-to-year losses of snow at the south pole.
Is Space a credible scientific journal? How about National Geographic from 2007?
Simultaneous warming on Earth and Mars suggests that our planet's recent climate changes have a natural—and not a human-induced—cause, according to one scientist's controversial theory.

Earth is currently experiencing rapid warming, which the vast majority of climate scientists says is due to humans pumping huge amounts of greenhouse gases into the atmosphere. (Get an overview: "Global Warming Fast Facts".)

Mars, too, appears to be enjoying more mild and balmy temperatures.

In 2005 data from NASA's Mars Global Surveyor and Odyssey missions revealed that the carbon dioxide "ice caps" near Mars's south pole had been diminishing for three summers in a row.
Must be a coincidence that Mars happens to be experiencing a warming period, right? It couldn't be the Sun, I suppose
In what is largely a reversal of an August announcement, astronomers today said Pluto is undergoing global warming in its thin atmosphere even as it moves farther from the Sun on its long, odd-shaped orbit.

Pluto's atmospheric pressure has tripled over the past 14 years, indicating a stark temperature rise, the researchers said. The change is likely a seasonal event, much as seasons on Earth change as the hemispheres alter their inclination to the Sun during the planet's annual orbit.
How about from MIT? The U of Tasmania? Sky and Telescope?
There are no cars on the other planets, unless they are invisible. Maybe all the industry is underground. Or, maybe, just maybe, that big ball of nuclear fire that gives us life can actually *GASP* cause warming trends. Is that possible?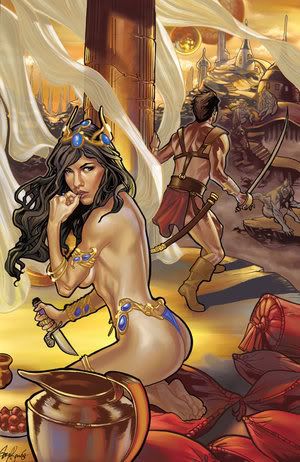 Hey, if it keeps Dejah Thoris unclothed, all the better! Hey, maybe it is the Thoats causing all the global warming on Mars!

If you liked my post, feel free to subscribe to my rss feeds.