Morning, all you crazy right wingnuts out there! I'd say it was a good morning, but, my Giants stunk it up again. And, since the official website of the Democratic Party has nothing to say about what they plan to do, to heck with politics for the moment. I mean, it is two weeks since the election, and, other then running ideas up the flag pole, they haven't really said what they want to do. Of course, coming out and saying they want to raise taxes on all, make abortion on demand completely and fully legal with no way to challenge it, cut and run from the war on terror, and assigning terrorists Rights and negotiating with them, among others, aren't real popular with Middle America.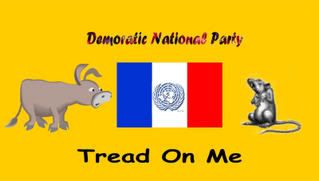 I will say, I never really like having Tony Kornheiser on ESPN's Monday Night Football, but, he earned my respect with two comments, the first being "where are the coaches?" and "why do they wait till there is 5 minutes left before spreading them out?" Both comments refer to the Giants.
He is right on both counts. Sure, the Gmen have a lot of injuries, but, they were doing this at the beginning of the season, too. As Eli, who is very talented, has regressed, gone through a bumpy patch, whatever you want to call it, where are the coaches to get him to fix his issues, most notably being his high throws?
A fix for that, along with their offensive woes, is to spread the offense out, go hurry up and no huddle, and get Eli and the offense into a rythme. Get the ball to Shockey, who is their sparkplug. Tiki and Brandon will be able to run out of a spread formation.
This reminds me of Fassel's last couple years, where they fell in love with the bunch formation and a slow tempo offense. And the results were the same. Getting behind in games, then having to try and go no huddle to catch up at the end of the game.
I could keep going on and on, but, happy place, happy place. Get it together, Giants!!!!!

Do you have an interesting post? Well, go ahead and leave a trackback, with a reciprical link back to me. Others offering open trackbacks are over in the right sidebar, near bottom.

If you liked my post, feel free to subscribe to my rss feeds.