This is a slight repeat of last weeks Surrender Monkey Friday post, with a more generic "could be anyone" siloutte:
It's that time of the week again! Do you have an interesting post you want to share with everyone? The official Surrender Monkey of the Democratic Party says to do what the Lefties don't, since they all have the same talking points: link it!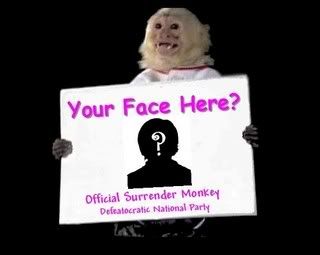 Now, I am not here to tell you what to do. If I and my little blog can persuade you or at least give you something to think about, great. Cause, what I have seen is many Republicans go a bit wobbly as of late. They think that they can "punish" the GOP big wigs for their behavior by doing one of three things:
voting democrat
voting for a third party
not voting
You want to know why Dems are looking up in the polls?
Independent voters are flocking to the Democrats ahead of next month's mid-term congressional elections, strengthening the prospect of a resounding victory by the party in the House of Representatives, and boosting hopes that it could capture the Senate as well.

According to a poll in yesterday's Washington Post, self-proclaimed independents – who account for a third or so of the electorate – say they will vote for Democrats rather than Republicans in their congressional district by a margin of 59 per cent to 31, usually citing disillusion with war in Iraq as the prime reason.

However, the change of heart reflects no great surge in affection for the Democrats. Half of independents who had changed their minds said their vote would be in protest at Republican policies. Only 22 per cent said they were enthusiastically embracing Democrats.
So, it is up to us to help persuade these independents that Republicans are still better then the cut and run, abortion on demand, raise taxes Democrats. Our critters might not be the best, but, they are still for the sanctity of life, winning the war on terror, and low taxes, not to mention being against socialized, well, everything.

Do you have an interesting post? Or just a post?
Want it spread around? Well, go ahead and link it up! Otherwise, Pelosi might speak more, or worse! Just add "er" to that word.
PS: I am getting slammed with spam trackbacks, which I check occasionaly. If yours gets eaten, email me.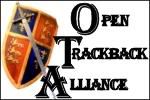 Send a trackback to this post, but don't forget to link it. Linked to the Linkfest Haven.

If you liked my post, feel free to subscribe to my rss feeds.