The Credentialed Media isn't even trying to portray the IRA as an inflation reduction bill
Biden to sign major health, climate and tax bill Tuesday at White House ceremony

President Joe Biden plans to sign the Democrats' massive climate, health and tax bill into law on Tuesday at the White House, marking a major accomplishment for his domestic agenda less than three months before midterm elections.

Biden will deliver remarks and sign the bill, known as the Inflation Reduction Act, at an event in the White House's State Dining Room, the White House announced Monday.

It will likely be a smaller ceremony, with Congress out of session and most members involved in the bill's passage out of town.

Taking advantage of some political momentum, Biden is interrupting his summer vacation for the signing just days after the House approved the measure, following Senate passage by just one vote amid some political drama. He has spent much of the past week in South Carolina.
Wait, what's that about vacation?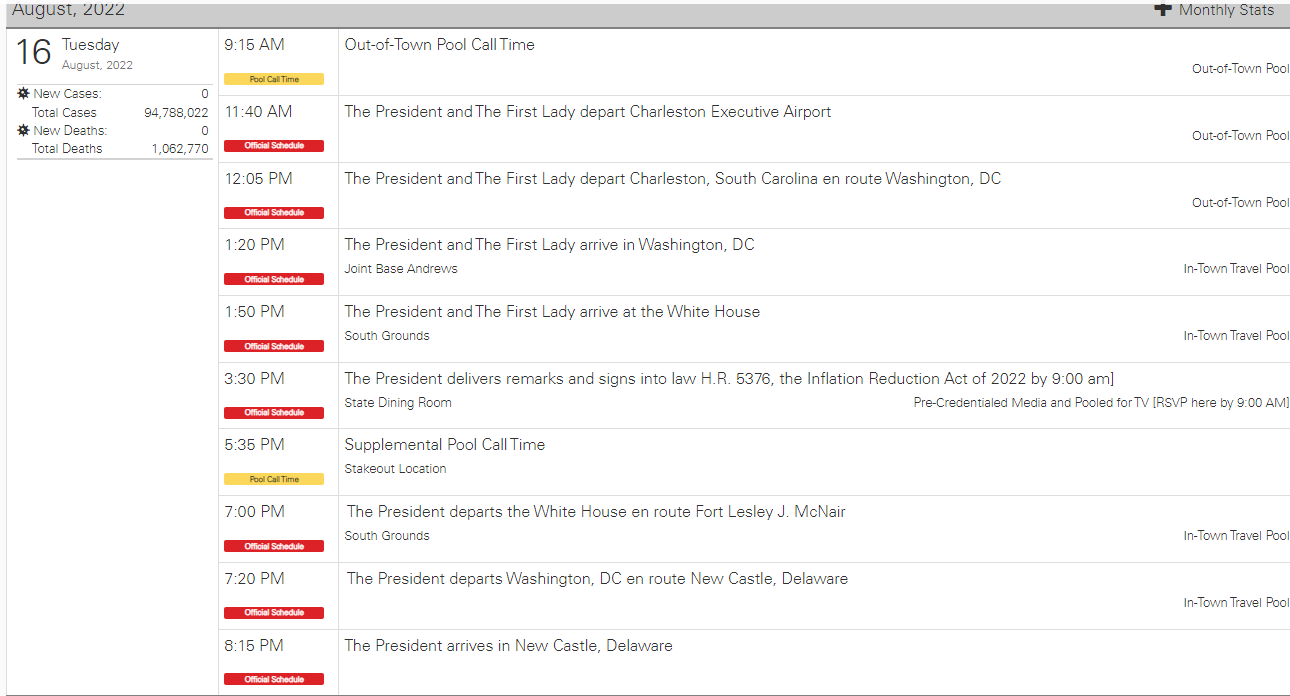 Let me get this straight: Joe will take a fossil fueled motorcade from his fancy pants vacation rental to the Charleston airport, fly to D.C. (did he take the jumbo jet down, or the smaller presidential plane? Did the backup jumbo jet go with? How about protection from fossil fueled fighter jets?), be flown by fossil fueled helicopter to the White House, then turn around and take a fossil fueled helicopter flight to New Castle a few hours later, followed by a fossil fueled motorcade to his house after signing a bill that's all about climate crisis (scam) stuff? And not one reporter will ask "Mr. President, if Doing Something about 'climate change' is so important, why aren't you changing your own behavior?"

If you liked my post, feel free to subscribe to my rss feeds.