This was the 1970's (via Not A Lot Of People Know That)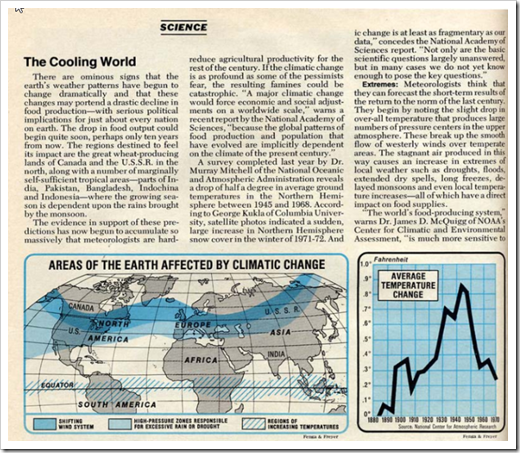 That was the 1975 Newsweek article about a coming ice age, when cold Bad Weather was caused by cooling, and just being winter and stuff. This comes via Paul Homewood at Not A Lot Of People Know That, and Paul notes
So, in a cooling world where the Arctic was getting much colder, and sea ice was expanding rapidly, we had:

The break up of the normal flow of winds.
Stagnant air (i.e. blocking zones)
Extremes of local weather such as droughts, floods, long freezes and monsoon failure.

In other words, exactly the same things, and worse, that are now blamed on the exact opposite, a warming world.
Exactly. Of course, cold Bad Weather from warming makes as much sense as destroying wilderness to to put up a wind farm to save the environment. Or most liberal notions.
The Hockey Schtick notes that the author of the article, Peter Gwynne, stands by the article, saying "It was accurate at the time." Linking to Daily Climate, which has an article about Mr. Gwynne (which you should read in full), we learn (the bold and colored are from The Hockey Schtick excerpt)
The unsavory afterlife of his 1975 story clearly has not soured his journalistic fervor. "I've been able to write for a lot of different audiences, physicists, engineers and the general public," Gwynne said. "I've been willing to accept that some of that is misused and misinterpreted."

By and large, he added, the U.S. science press has done "a pretty good job" of covering climate change. But "the political press doesn't check. It tends to do 'on the one hand, on the other hand.' A lot of reporters simply will not go into issues like global warming with any understanding that the sides are not equal."

Journalists should not ignore climate deniers, he cautioned. "You have to give all sides a fair hearing." But that does not mean they have to be treated equally "if they don't have the data." [climate skeptics DO have the data, before and after it has been tampered]Â To do so, he said, is false balance "that leaves readers out on a limb."
That bit was about political vs. science reporting. When it comes to AGW/climate change, it is all political reporting. Science really has little to do with it. Otherwise, we wouldn't have the recent polar vortex blamed on hot conditions.

If you liked my post, feel free to subscribe to my rss feeds.