I had every intention of pretty much moving past the #OneNationFail rally after posting a few links in the Patriotic Pinup post, unless I ran across an actual overhead shot. I did run across this image, though
Now, I've seen the shot which looks like it was taken from the top of the Washington Monument, which even the Huffington Post is pushing as "proof" of the rally being bigger than the Restoring Honor rally. Not sure how, when you compare the photos. The first is of the One Nation, taken by Nico Pitney. The one problem I have is that we do not know what time it was taken. The second is of the Glenn Beck rally, about midway through.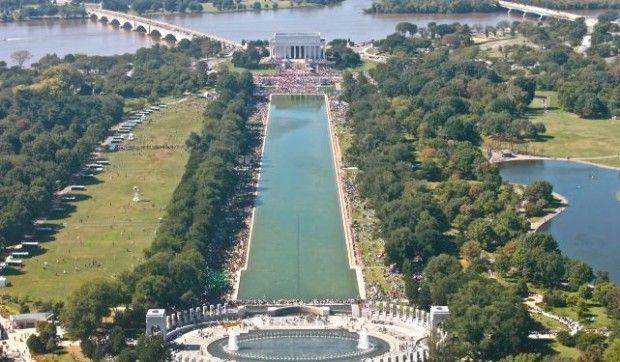 Now, if I look at the one by Nico, it looks like it was, and I'm guessing, early in the rally. Like a Dodgers game, people were very late to arrive, and left early. (Interestingly, it looks like a ton of those bused in stayed in hotels on Saturday night. Which is interesting, since every hotel in the D.C. area had plenty of openings.)
Now, the first photo, all the way at the top, interests me, because you can see, to some degree, off to the right side of the Reflecting Pool, the side with the Korean War Memorial (that would be on the left of both of the comparison shots.) The fact is, as you could see from the TV coverage as well, there were very few people hanging on that lawn. Mostly, they were tourists. From the first shot you can tell there weren't many people beyond the sides of the Pool. Some were in the trees, but, that is about it. So, if the Lefties want to claim there were only 87K, as reported by cBS, that means only about 20k at the One Nation. If they want to claim 175-200K, as the organizers proclaim, based on some satellite shots, which no one else has seen, then Beck would have about 500-600K, easy. Even the New York Times proclaimed "Significant areas of the National Mall that had been filled during Mr. Beck's rally were empty."
Some lefties can claim they won, but, seriously, just admit it, if not failed, surely did not succeed. Beck's rally was mostly non-partisan, mostly about God (which surprised many attendees, including me.) People came from all over the country, even the world, on their own accord. They weren't bussed in by their unions. They didn't need every fear mongering, race baiting, grievance and complaint group out there to try and get them to D.C. They just came.
Da Tech Guy has some interesting comparisons regarding attendance and trash between the two rallies.

If you liked my post, feel free to subscribe to my rss feeds.