Even the media is having a hard time finding a way to put it in negative terms, what with 500,000 or more in attendance (s0me are even going as far as 1 million, but, don't think so. And the idiots at CBS are claiming 87,000) or watching on C-SPAN. For myself, I was there, found a hotel room (I was a bit late in booking), was a bit expensive, so I only stayed Friday night, came back to Raleigh this evening. It wasn't quite what I expected, rather like an old time religious rally, but, all in all, incredible, a way of reconnecting with God and patriotism, core American values. Even the Washington Post had to give a sorta thumbs up
Conservative commentator Glenn Beck and other icons of the "tea party" movement addressed a sea of activists Saturday at the Lincoln Memorial, championing a religious brand of patriotism and calling for the nation to recommit itself to traditional values they said were hallmarks of its exceptional past.
Why is tea party in quotations? OK, never mind, liberal bias.
On the anniversary of Martin Luther King Jr.'s "I Have a Dream" speech, steps away from where it was delivered, Sarah Palin and other speakers at Beck's "Restoring Honor" rally staked a claim to King's legacy and to that of the Founding Fathers. They urged a crowd that stretched to the Washington Monument to concentrate on the nation's accomplishments rather than on its psychological scars.

"Something that is beyond man is happening," Beck said from the base of the Lincoln Memorial. "America today begins to turn back to God."

The event was billed as "nonpolitical," and Beck steered clear of the partisan commentary that has made him a hero to many conservatives and a nemesis to many on the left. But political overtones were unmistakable, and the rally drew a large crowd – including many who said they were new to activism – that was energized and motivated to act.
For the most part, it was non-political. A few shots here and there, and, obviously, many in the crowd were political. I think quite a few people were expecting something different, though, I do believe they were pleased.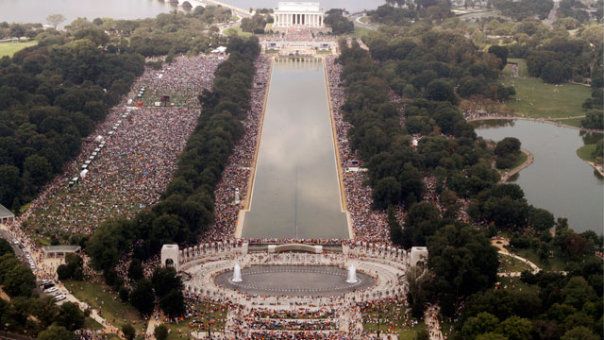 People were stacked up all the way to the Washington Monument.
And, hey, you know it must have succeeded when so many on the left are at full Force 10 Moonbattery, as seen by all the different links at Memeorandum. Also here and here. Especially since the AP makes an inadvertently good point (though did try the old "thousands gather near Lincoln Memorial", without mentioning what was going on)
It was not clear how many tea party activists were in the crowd, but the sheer size of the turnout helped demonstrate the size and potential national influence of the movement.
Are you paying attention, elected Washington? This means you Republicans, too.

If you liked my post, feel free to subscribe to my rss feeds.