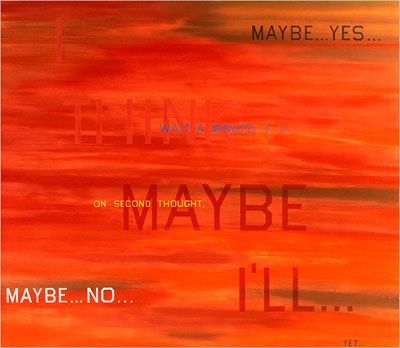 Surprisingly, I am not shocked by this. Pretty much the way he has acted whenever he actually has to make a decision.
But the collection is also not without humor. Another contemporary work chosen by the Obamas is a word painting by the California artist Ed Ruscha. Called "I Think I'll … " it deals with the subject of indecision. The work depicts a brilliant red sunset against which Mr. Ruscha has painted phrases like "Maybe … Yes … " and "Maybe … No … " and "On Second Thought."
Let's use the old tried and true "what if Bush had this art in the White House?"
(Via Ace, Michelle, and The Corner)

If you liked my post, feel free to subscribe to my rss feeds.