Unsurprisingly, this shocks me not in the least. Offends me, yes. Disgusts me, yes. Shocks me? Not so much. I have pretty much become used to this type of insanity from the Lefties (h/t John Hawkins)
The attack on Glenn Beck continues by the internet crowd calling for a boycott of Beck's advertisers. Can we now boycott the internet for making false accusations? The accusation that "Glenn Beck raped and murdered a girl in 1990" has apparently gone… well, viral. A whole website has sprung up because of it. glennbeckrapedandmurderedayounggirlin1990.com Warning: Not Safe For Work.

In the age of the internet false accusations are common. Glenn Beck has yet to respond to the "Claims". (Can you blame him?) A claim that is being made on the I-report feature of CNN's website. CNN is probably loving the traffic that it is receiving to its "unedited, unfiltered" news site. Glenn Beck formally hosted a show on CNN before moving to Fox News. Nobody seemed to mind him when he was on CNN.
Like John, I am not going to link to any of the psychopaths who are hailing this as some sort of proof that Glenn Beck is a deviant. Take a look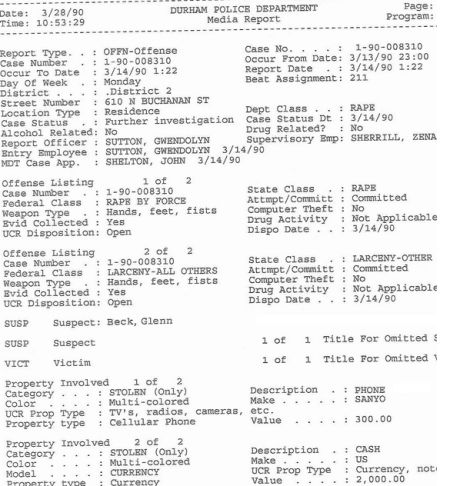 I suppose I could go looking for the original copy, but, why bother? Notice anything strange? Like the address, which happens to be the same as the house the Duke Lacrosse players, falsely accused of rape, had their party? This report was filed for the date when the accuser was checked in the hospital, 3/14/06, when Crystal Mangum was in the hospital. Gwendolyn Sutton was the Durham, NC, police officer who was on scene at the hospital. Notice the "occur from" date in top right. Yup, night of the Duke party. John Shelton is a Durham PD Sgt involved with the case.
Good luck with a cell phone being worth only $300 in 1990. Furthermore, Sanyo did not make them in 1990. The first entered the cellular phone business in 1994. The players were also accused of stealing her phone and money, originally.
All in all, this is a pathetic attempt on the part of the left to demean Glenn Beck. Of course, if you go to the site, you find
Notice: This site is parody/satire. We assume Glenn Beck did not rape and murder a young girl in 1990, although we haven't yet seen proof that he didn't. But we think Glenn Beck definitely uses tactics like this to spread lies and misinformation.
Only nutjobs on the left would think that creating a false document accusing Beck of rape is parody/satire.
(Comments have been shut off, due to being alerted to the fact that the Insane Left is leaving unhinged comments in order to create "Google bombs" of this meme.)

If you liked my post, feel free to subscribe to my rss feeds.