Here's a good way to get people to buy into anthropogenic global warming: tell them they can no longer eat beef. Hamburgers are the Hummers of food in global warming
When it comes to global warming, hamburgers are the Hummers of food, scientists say.

Simply switching from steak to salad could cut as much carbon as leaving the car at home a couple days a week.

That's because beef is such an incredibly inefficient food to produce and cows release so much harmful methane into the atmosphere, said Nathan Pelletier of Dalhousie University in Canada.
Can't you just see it now, guys standing in front of their grills armed with their spatula and a high caliber handgun, daring AGW supporters to take their steak away, after they get around to passing the "no beef" laws? Well, they probably won't because it seems as if Obama has a penchant for $100 wagyu steak. Though, they could push laws that would make you pay to offset the methane released. I wonder if they will require that for when you, ahem, break wind, too.
But, here's your chance to live the life, AGW believers. Give up your burgers and steaks and anything that comes from cows. Will you take the challenge, and live the life? I'm betting no.
But, will that really solve the issue? Captainfish at snapped shot says no, and knows what we have to do with this knowledge from the study: kill all cows! "Question: If we don't eat the meat, won't the cows continue to live and pollute our planet? We MUST kill them for our children's sake."
But, then PETA will freak out. Hmm, maybe we could arm them and the AGW folks, have one of those battles like they have in Braveheart.
If people were to simply switch from beef to chicken, emissions would be cut by 70 percent, Pelletier said.
And then, in a few years, they will tell us that chicken is bad, and we should all be Vegans. Of course, there is a wee bit of a problem with that, since we will need more plants to stay alive, and plants produce methane. Woops.
In other AGW news, Watts Up With That? has the latest insanity from Dr. James Hansen. Featured is one of those wonderful scientific graphs on CO2, which should, but won't, give pause to the AGW believers silliness, nor make them change their minds in the least.  It really is more of a Belief, like a religion, then a science.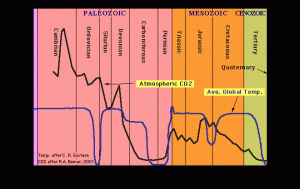 Click it for full size. Originally from article at Junk Science.

If you liked my post, feel free to subscribe to my rss feeds.