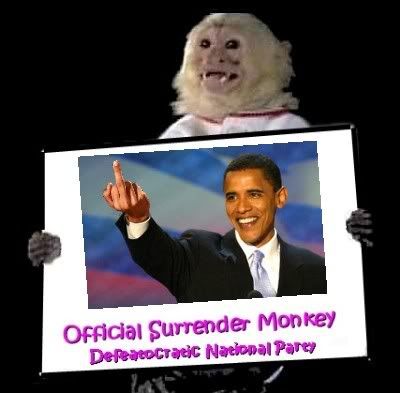 Of course, the New York Times doesn't quite label Barry a liar, but, even Surrendie can read between the lines of a jilted Grey Lady, who has been carrying Barry's water, and is not amused when he makes her out to be a fool: Dubious Claims in Obama's Ads Against McCain, Despite Vow of Truth
Two weeks ago, Senator Barack Obama's presidential campaign gleefully publicized a spate of news reports about misleading and untruthful statements in the advertisements of his rival, Senator John McCain. Asked by a voter in New Hampshire if he would respond in kind, Mr. Obama said, "I just have a different philosophy, I'm going to respond with the truth," adding, "I'm not going to start making up lies about John McCain."

Yet as Mr. McCain's misleading advertisements became fodder on shows like "The View" and "Saturday Night Live," Mr. Obama began his own run of advertisements on radio and television that have matched the dubious nature of Mr. McCain's more questionable spots.

A radio advertisement running in Wisconsin and other contested states misleadingly reports that Mr. McCain "has stood in the way of" federal financing for stem cell research; Mr. McCain did once oppose such federally supported research but broke with President Bush to consistently support it starting in 2001 (his running mate, Gov. Sarah Palin of Alaska, does not support it). (snip)

In all, Mr. Obama has released at least five commercials that have been criticized as misleading or untruthful against Mr. McCain's positions in the past two weeks. Mr. Obama drew complaints from many of the independent fact-checking groups and editorial writers who just two weeks ago were criticizing Mr. McCain for producing a large share of this year's untruthful spots ("Pants on Fire," the fact-checking Web site PolitiFact.com wrote of Mr. Obama's advertisement invoking Mr. Limbaugh; "False!" FactCheck.org said of his commercial on Social Security.)
So much for Hope and Change and a New Way Of Politics. Maybe Obama should change his campaign slogan to Truthiness.
Just for clarification, ads that stretch the truth do not bother either myself of The Surrender Monkey, nor does negative advertising, or mud slinging. That is just politics, as it goes back to when Og challenged Grag for leadership of the stoneage village. But, like the Times is working the edges around, you can't sit there and say you are against all the normal politics, and then go and do them.

If you liked my post, feel free to subscribe to my rss feeds.