There has been a constant bleat from the Obama campaign and many compliant and complicit media outlets to announce to the American people that Barack Obama would decrease taxes for 95% of the American people. Beyond the fact that that would be impossible, this begs the question, since the Barry camp wants to deal with non-distractions, what rates does Barry propose?
Web CPA, which is concerned, rightly, about job and income loss for CPA's, has this to say
Obama also is pushing to repeal the Bush administration's 2001 and 2003 tax cuts – at least the part of those laws that gave relief to upper-income taxpayers. But in order to "protect tax cuts for poor and middle-class families," he has proposed limiting the rollback to taxpayers with incomes of $250,000 or more, as well as permanently extending marriage penalty relief and simplifying the Earned Income Tax Credit.
Obama has been against making the Bush tax cuts permanent for years. And, as John Feehery points out
History: When it comes to cutting taxes, Barack Obama is a virgin. He has never voted for a tax cut in his legislative life. He has had 94 opportunities to vote for a tax cut in his Senate career, and he has voted no each and every time. When you have a long history of voting to raise taxes, you can't convince voters that you are a born-again tax-cutter. Sorry. Nice try.
Now, Barack has all sorts of refunds ($500 for singles and $1,000 for families)Â and stuff going on in his plan, but, consider: here are the tax rates for 2000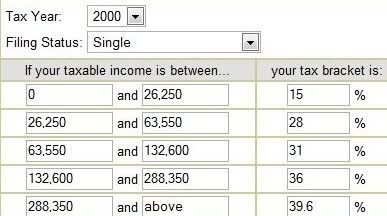 And for 2008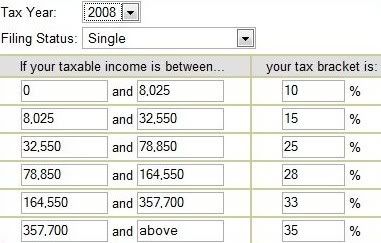 Let's consider what this means. The average American income in 2007 was $50,233. So, in 2000 you would have paid $14,065 in federal taxes. In 2008 you will pay $12,558 (and people say tax discussions are boring?) A difference of $1,506. Of course, we are not considering any deductions and other tax wonkiness, just straight numbers.
So, Barry let's the Bush tax cuts lapse. What does he replace it with? Will he actually keep the rates for those who are making less then $250k as families and $200k as individuals in place? Will he go back to Clinton era tax rates? Those are the questions. Because giving a rebate is not a tax cut, it is just giving you your own money back. And people rarely pay attention to the actual tax rates
And that does not even get in to the capital gains taxes Barry wants to double, nor shifting the tax burden to the middle class as "the rich" start spending less and sheltering their money, nor the raise in Social Security taxes.
BTW, good thing Barry's running mate thinks that low taxes are unpatriotic. Has he told Barry yet?

If you liked my post, feel free to subscribe to my rss feeds.