How did the the folks who failed to follow the terms of the 1st Amendment fare from Monday?
On Monday, police arrested 283 people accused of firing projectiles, pepper spray and tear gas to disperse a crowd demonstrating near the convention site, St. Paul Police Department Chief John Harrington said.

St. Paul police said that 120 of the 284 arrested were being held on felony charges. The rest were charged with various misdemeanors.
Don't bend over to pick up the soap, maggots!
St. Paul police spokesman Thomas Walsh said Monday afternoon that some of those arrested are accused of property damage and conspiracy to riot.

Five police cars were among the property that was damaged, Walsh said.

Court proceedings Tuesday were slowed after 22 people facing misdemeanor charges refused to give their real names, Dave Gill, a Ramsey County public defender, told The Associated Press. Only two people out of all those arrested completed their initial hearings as of midday, the AP reported.
A few morons ruin the day are representative of the rest.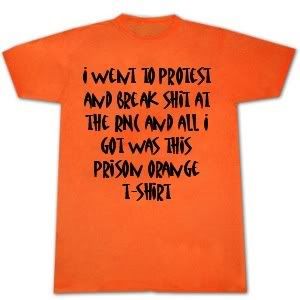 If you liked my post, feel free to subscribe to my rss feeds.