Via Sister Toldjah, the humor story of the week
The presidential race is in full swing — but not the way you might think.

A young New York City entrepreneur has decided to "have fun" with the campaign by marketing condoms featuring images of Barack Obama and John McCain.

Benjamin Sherman, who created the company Practice Safe Policy, says the Obama condom carries the slogan "Use With Good Judgment."

The McCain version says "OLD BUT Not Expired."
The Missiah's are also Oprah approved!
Here are the websites for each one: McCain / Obama.
The perfect item for libs to carry in their Man Bags. I'm not sure if the McCain ones will fit in a Republican's wallet. Only so much space in there.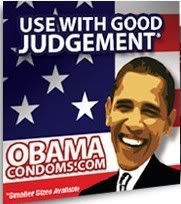 If you liked my post, feel free to subscribe to my rss feeds.