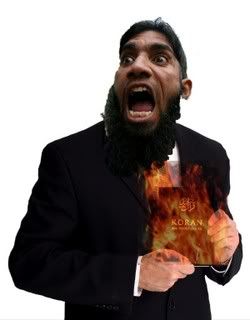 With the release of Fitna, so far it has been peaceful. That could change by the time I post this in the afternoon, but, so far there has been lots of anger but restraint. (nope, no change yet. Give it time)
Tehran – Iran Friday harshly condemned the anti-Islamic video made by Dutch legislator Geert Wilders and warned of 'consequences of such provocative move.'
Wilder's did make a few mistakes in the film, though.
Michelle: We'll see how "restrained" the Religion of Perpetual Outrage is after the mosques let out [Friday].
Dutch fear Muslim anger over the movie. And well they should.
Muslims demand ban on Fitna, and are taking it to court.
The Divine Miss MM also has a followup.
The Washington Times on preemptive Islamicist rage.
A Blog For All has some reactions, plus: It's rare to hear [the EU] denouncing ongoing terrorism done in the name of Islam by jihadis, whether it is in Afghanistan, Thailand, Philippines, or Israel. Where are the calls for tolerance when the jihadis are busy blowing up schools, businesses, rioting, and otherwise seeking to kill non Muslims and those who are not strict adherents to their brand of Islam? 
Maggie's Farm brings out Islamic Rage Boy. I think I will add him, too.
FYI, the vid at Liveleak now has a mature warning label. But, at least it is playing!
Israel Matzav discusses an even more explosive film coming out.
Update: a little late to the party, had that evening commute and Real Life stuff, Liveleak has taken down the video (via The Jawa Report and Michelle M)
"Following threats to our staff of a very serious nature, and some ill informed reports from certain corners of the British media that could directly lead to the harm of some of our staff, Liveleak.com has been
left with no other choice but to remove Fitna from our servers.

This is a sad day for freedom of speech on the net but we have to
place the safety and well being of our staff above all else. We would
like to thank the thousands of people, from all backgrounds and
religions, who gave us their support. They realised LiveLeak.com is a
vehicle for many opinions and not just for the support of one.
Perhaps there is still hope that this situation may produce a
discussion that could benefit and educate all of us as to how we can
accept one anothers culture.

We stood for what we believe in, the ability to be heard, but in the end the price was too high."
That is what happens when you deal with the Religion of Peace. You can watch the above on this post.
Still available at at Google Vids, for now, below the fold.
I'm going to try uploading to Soapbox and Flurl.

If you liked my post, feel free to subscribe to my rss feeds.