Fun day ahead! Sticky Post thru Thursday.
Meanwhile, who do you think was involved with this?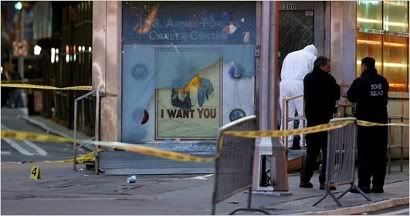 Police officers, one of them in a hazardous-materials suit, examined the military recruiting station in Times Square after an explosion damaged the front of the building early Thursday morning. (Photo: Chip East/Reuters)
I'm betting on some unhinged liberals.
Do you have an interesting post? Well, go ahead and leave a trackback, with a reciprical link back to me.

If you liked my post, feel free to subscribe to my rss feeds.