Happy Friday to all! It's that time of the week again! Do you have an interesting post you want to share with everyone? The official Surrender Monkey of the Democratic Party says to do what the Lefties don't, since they all have the same talking points: link it!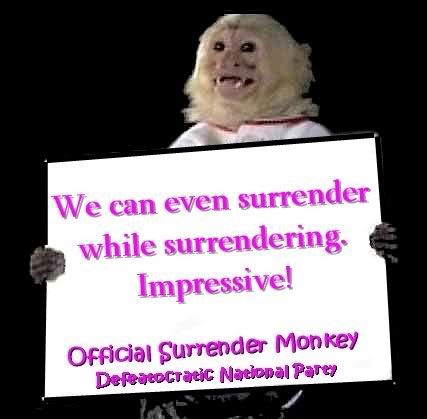 The official Surrender Monkey is tickled pink today, as the Democrats have managed to not only craft a surrender in Iraq piece of legislation, but had members surrender to get it!
Liberal opposition to a $124 billion war spending bill broke last night, when leaders of the antiwar Out of Iraq Caucus pledged to Democratic leaders that they will not block the measure, which sets timelines for bringing U.S. troops home.

The acquiescence of the liberals probably means that the House will pass a binding measure today that, for the first time, would establish tough readiness standards for the deployment of combat forces and an Aug. 31, 2008, deadline for their removal from Iraq.

Even more than the conservative Democrats leery of appearing to micromanage the war, House liberals have been the main obstacle to leadership efforts to put a timeline on the withdrawal of U.S. forces. They have complained that the proposal would not bring troops home fast enough. Their opposition has riven the antiwar movement, split the Democratic base and been the main stumbling block to the legislation, which had originally been scheduled for a vote yesterday.

As debate began on the bill yesterday, members of the antiwar caucus and party leaders held a backroom meeting in which House Speaker Nancy Pelosi (D-Calif.) made a final plea to the group, asking it to deliver at least four votes when the roll is called. The members promised 10.

"I find myself in the excruciating position of being asked to choose between voting for funding for the war or establishing timelines to end it," said Rep. Barbara Lee (D-Calif.). "I have struggled with this decision, but I finally decided that, while I cannot betray my conscience, I cannot stand in the way of passing a measure that puts a concrete end date on this unnecessary war."

Shortly after, Out of Iraq Caucus leaders decided to break the pact that members had made to stick together against the bill. "We have released people who have been pained by all this," said Rep. Maxine Waters (D-Calif.). "We told them we don't want them to be in a position of undermining Nancy's speakership."
You just gotta love them. Rather then sticking to their guns over the supposed reason they were elected, their "mandate," Democrats have a severly watered down piece of surrender in Iraq legislation. Then, to get those in the Out Of Iraq Coalition to surrender on their principles for an esoteric, and plain silly idea, such as "undermining Nancy's speakership," is the hight of surrender. There are going to be moonbats in true apoplexy today. Especially those camped out at Nancy Pelosi's home, who were, BTW, told by police to take down "Camp Pelosi." No one knows who ordered it, unsurprisingly.
Four members of Code Pink attempting to send the same message by taking over Pelosi's office in Washington were arrested Tuesday. They included at least one Bay Area resident, Janine Bonaparte from Marin County, according to a Code Pink news release.

"Pelosi is making political compromises that will compromise the lives of our children,'' Bonaparte was quoted as saying in the news release. "She does not represent me or the peace majority that elected (her) in November.''
Michelle Malkin touches on this, as well.
And expect more unhinged activities by the anti-Operation Iraqi Freedom folks if this passes.
There has been lots of uproar over the Democratic leadership attempting to bribe Congresspeople to vote for the bill. But, how about this (from The Hill)
The lobbying was intense. Two House Democrats said the leaders dangled the possibility of reversing decisions made by the Base Realignment and Closure Commission (BRAC). Democratic National Committee Chairman Howard Dean and AFL-CIO Chairman John Sweeney called individual lawmakers, while Democratic leaders lobbied members in phone calls and on the House floor.

Democrats were seeking support from Republicans as well. Ruppersberger said he had spoken to Rep. Roscoe Bartlett (R) but would not say how his fellow Marylander would vote. If Bartlett decides to support the bill, Ruppersberger added, it will be because of his conscience and not anything the Democrats could offer him.
Two points: First, what happened to Nancy doing away with all that lobbying that causes the "culture of corruption?" Sure seems that it is alive and doing quite well, thank you very much.
Second, if Republicans join the Coalition of Surrender, it is because of their conscience? Does that mean that those of the Out Of Iraq Caucus that vote for it are immoral?
Captain Ed discusses the pork in the legislation in depth.
I mentioned back before the elections that the Democrats might well try exactly what they are doing: putting surrender legislation in Iraq/Afghanistan spending bills, leaving President Bush in a bad situation. Well, they have tried it multiple times, and now they think they have the best one. Will the Republican Congress Critters stand up to it, or will they surrender, too?
Update: The Surrender Bill passed 218-212, with two Dhimmi Republicans crossing the aisle, including, I am sorry to say, Walter Jones of North Carolina. See David at the Thunder Run for the full details.

Send a trackback to this post, but don't forget to link it.

If you liked my post, feel free to subscribe to my rss feeds.