Happy Friday to all! It's that time of the week again! Do you have an interesting post you want to share with everyone? The official Surrender Monkey of the Democratic Party says to do what the Lefties don't, since they all have the same talking points: link it!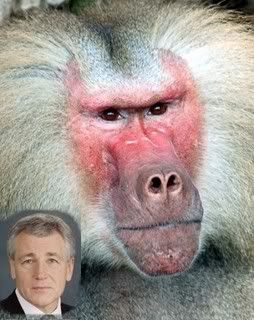 The Hagel Baboon joins us today, as Surrendie gets the day off, to announce Chuck Hagel for President, maybe, possibly (h/t Hot Air)
WASHINGTON – For a guy who hasn't announced a presidential bid, Sen. Chuck Hagel's schedule next week looks a lot like that of a candidate.

He's slated to appear with nine declared presidential hopefuls – including John McCain, Rudolph Giuliani, Hillary Rodham Clinton and Barack Obama – before a national firefighters' group.

He's meeting with his political action committee's steering committee. He's scheduled to attend a Nebraska GOP fund-raiser in Washington.

And speculation was running high among key Nebraska Republicans that Hagel might announce something Monday.

Among his options, Hagel could form a presidential exploratory committee, delay a decision about the race until the fall, combine the two, announce a White House bid or take a pass. He also could clarify whether he might seek re-election to the Senate in 2008.
But, see, the Hagel Monkey has a problem
"The president says, 'I don't care.' He's not accountable anymore," Hagel says, measuring his words by the syllable and his syllables almost by the letter. "He's not accountable anymore, which isn't totally true. You can impeach him, and before this is over, you might see calls for his impeachment. I don't know. It depends how this goes."
This is not the first time Hagel has gone Surrender Monkey, and this will not play all that well with the Conservative based no matter how much he is a "conservative Republican from a safe Senate seat in a reddish state." He has about as much support within the base as John McCain does. And, he has another problem
"Congress abdicated its oversight responsibility," he says. "The press abdicated its responsibility, and the American people abdicated their responsibilities. Terror was on the minds of everyone, and nobody questioned anything, quite frankly."
Sounds like Hagel is saying that he should either resign, have the voters throw him out on his ear, or be impeached for dereliction of duty. This is just what we need, a guy running for president who plain admits he wasn't doing his job in Congress.
Update: Captain Ed has this to say about Hagel possibly entering the fray:
Bwa-ha-ha! Stop it, you're killing me!

Oh, wait … he's serious?

Send a trackback to this post, but don't forget to link it. Otherwise, I might throw flaming monkey poo at you!
PS: Akismet is being super strict. I will rescue your TB, I promise ye.

If you liked my post, feel free to subscribe to my rss feeds.